Did you just play the the title song of 'The Jungle Book' in your head on reading the title? For the generation that grew up in the 80s and 90s, Sunday mornings meant rushing to the TV when the Jungle Book song started and plonking yourself in front of the screen to be a part of Mowgli, Baloo, Bagheera, Kaa and Shere Khan's adventures! As The Jungle Book movie gets ready to release on the 8th of April, dive into the deep recesses of the jungle where you spent your childhood with Mowgli, and tell us your favourite bits about the The Jungle Book!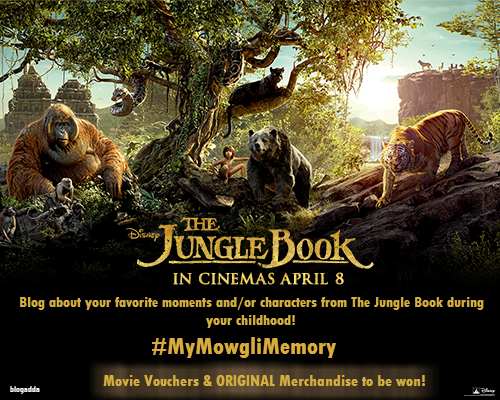 BlogAdda presents the #MyMowgliMemory weekend activity! Tell us and Blog about "Which were your favorite moments and/or characters from The Jungle Book during your childhood? How does it feel to revisit The Jungle Book many years later as an adult?"
All of us love Mowgli for different reasons – it may be his relation with Baloo and Bagheera, the way he battles Shere Khan, or the adorable manner in which he makes the jungle his home. All of us have loved Mowgli, his friends and mentors, and some of us even tried to be like him! All Mowgli fans love and remember him for different reasons, and we want to know yours! Share #MyMowgliMemory with us this weekend and win tickets and original merchandise!
Prizes:
First Prize: Top 5 blog posts win couple movie vouchers!
Second Prize: 10 bloggers win The Jungle Book pen drives!
First 20 unique valid entries get assured original The Jungle Book T-shirts!
Click on the button below to submit your entry!
Mandates for the activity
1. The word limit for every blog post is a minimum of 400 words.
2. This activity is open only for Indian bloggers.
3. Please include the line, "I'm blogging about #MyMowgliMemory at BlogAdda."
4. Only blog posts submitted through this form will be considered valid.
5. The last date for submission of this blog post is midnight, 4th April 2016.
6. One blogger can write a maximum of 2 blog posts for this activity.
7. Please embed the below video in your blog post for it to be considered valid.
So go ahead, go back to Mowgli and his gang of furry (and scaly) friends in the jungle, hum 'Jungle jungle baat chali hai, pata chala hai…, and make us relive The Jungle Book through your blog posts. We know you'd love to watch the new one and flaunt your exclusive The Jungle Book merchandise!
For all the latest updates about The Jungle Book, follow @DisneyFilmIndia.