They say TV killed the Radio star, but the Internet has still not been able to kill the TV star. TV is still the most used source of entertainment and updates for the average Indian household. We can't say much about the quality of entertainment that TV provides, so we're giving you a chance to create your own TV show in this week's WOW prompt!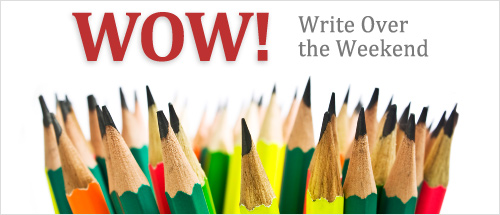 This week's WOW prompt is – 'If I Could Create A TV Show'
To be fair, TV is not a complete waste of time. It gives us the news, plays music, has informative shows, updates us on the latest Bollywood gossip, teaches mothers in law how to irritate their bahus, well, you get the drift. How many of you have uttered 'I can make a better show than this' while watching something on TV? Here's your chance. This week's WOW prompt is 'If I Could Create A TV Show', and we are asking you to give us an interesting TV show that will pique the interest of millions of people! Make us go WOW with your concept this weekend.
Remember, you have time only till Sunday midnight to submit your blog posts and have a chance to get the WOW badge!
Include this code:
This post is a part of Write Over the Weekend, an initiative for Indian Bloggers by BlogAdda.
Good news! There is now an easier way to submit your WOW entries, so just click on the submission link below for your WOW entry to be considered valid.

Every weekend, we give creative writing prompts for you to write blog posts on! Hope you enjoy our creative writing inspiration for this week. 🙂
All those who are featured in WOW can now flaunt the WOW badge on your blog. Download your badge now!