Talking about anything related to intimacy and sex is a taboo in India. And this taboo, unfortunately extends to sexual violence too. Be it being touched in public or molested by an older relative, the response to such violence is silence. To break this silence,  Amnesty International in association with BlogAdda came up with the #KnowYourRights activity. Participants blogged about reasons why they think it is important to encourage reporting of sexual violence. We received a very encouraging response and it is now time to announce the winners for this activity.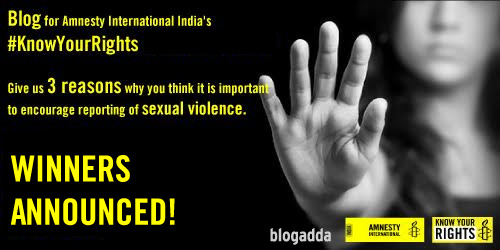 Below are the winners for the #KnowYourRights activity. They receive a voucher worth Rs. 1,000 each.
Congratulations to all the winners and a big thank you for giving your voice for creating awareness to curb the problem of sexual violence. Keep Blogging!