Valentine's Day is here and we can almost hear people scampering away in search of the perfect gift or surprise for their loved one. The world is painted in pink and red, and you can see the anticipation for Sunday in most couples' eyes. This Valentine's Day, we're asking you to bring out your romantic quirky side and give us fun ways to celebrate Valentine's Day!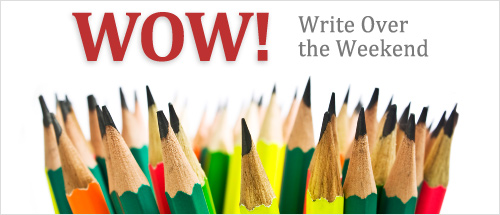 This week's WOW prompt is – '9 Fun Ways To Celebrate V-Day'
Yes we know Valentine's Day is about love but there have to be other ways to celebrate your partner than going down the flowers-chocolates-dinner route. Like love comes in many forms, expression of love can also have many forms. Why not go quirky this 14th February and tell us fun ways to celebrate Valentine's Day? Regardless of your relationship status – you can be single, married, in a relationship or in between – we're asking you to write a fun, quirky blog post and give other people some amazing V-Day ideas!
Remember, you have time only till Sunday midnight to submit your blog posts and have a chance to get the WOW badge!
Include this code:
This post is a part of Write Over the Weekend, an initiative for Indian Bloggers by BlogAdda.
Good news! There is now an easier way to submit your WOW entries, so just click on the submission link below for your WOW entry to be considered valid.

Every weekend, we give creative writing prompts for you to write blog posts on! Hope you enjoy our creative writing inspiration for this week. 🙂
All those who are featured in WOW can now flaunt the WOW badge on your blog. Download your badge now!