Short hair – Tomboy
Prefers jeans – Has no regard for tradition
Saree or salwar kameez – Behenji
Long hair – Homely but not ambitious
Tattoo – God forbid!
There's no winning for women, right? We're not saying it, society is. You might even have experienced this firsthand. Getting judged by your appearance, while your achievements and qualities get ignored. It's time to break these stereotypes. Blog for the #IAmCapable activity at BlogAdda in association with Nihar Naturals and give your story a voice.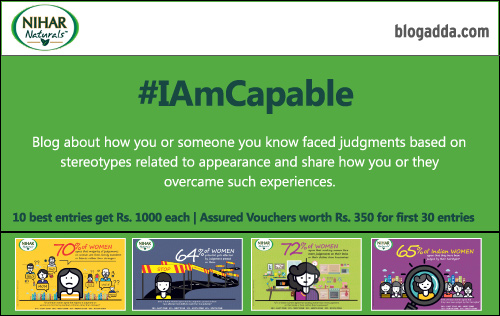 Blog this weekend about how you or someone you know faced judgments based on stereotypes related to your appearance and share how you overcame such experiences.
It's no surprise that women get judged based on what they look like, more than on what they do. Women don't just have to worry about looking presentable, but also have to worry about how they will be perceived. Every outfit carries a subtle message for people who pass judgments, and women are forced to adhere to the image that their appearance creates.
Not just experience, but even statistics say the same. Take a look at some of the startling figures that the Nihar Naturals #IAmCapable survey conducted by Nielsen India reveals:
a. 69% of men agree that their judgement of women is based on their looks.
b. 64% of women agree that the judgments passed on them have affected their ability to reach their true potential.
c. 70%of women agree that majority of judgments on women are from family members or friends rather than strangers.
d. 72% of women agree that working women face more judgments on their looks or their clothes than housewives.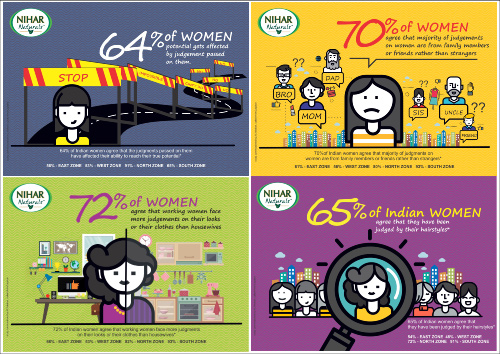 With such an alarming majority admitting to judging women on their looks, isn't it time we change the status quo? Let's do it by starting to talk about it. Bring your stories of being stereotyped into the light by blogging for the #IAmCapable activity at BlogAdda. Include the statistics mentioned above and tell us your experience of facing judgment based on your looks. It could also be the story of a lady you know. Also tell us how you overcame this experience to reach your full potential.
The deadline for this activity is midnight, 15th February, 2016. So submit your entries before time runs out!
Prizes:
10 best blog posts win vouchers worth Rs. 1000 each!
First 30 valid entries get assured vouchers worth Rs. 350 each!
Click on the button below to submit your entry!
Mandates for the activity:
1. The word limit for every blog post is a minimum of 400 words.
2. This activity is open only for Indian women bloggers.
3. Please include the line, "I'm breaking stereotypes based on appearance by sharing my experience for the #IAmCapable activity at BlogAdda in association with Nihar Naturals."
4. Only blog posts submitted through this form will be considered valid.
5. The last date for submission of this blog post is midnight, 15th February 2016.
6. One blogger can write a maximum of 2 blog posts for this activity.
7. Please include the 4 statistics mentioned above in your blog post for it to be considered valid.
Check out one of Nihar Naturals' #IAmCapable stories in the video below!
Get blogging and use your story to break gender stereotypes. Who knows, your story can inspire other women to take a bold step towards fulfilling their potential!