Priya Adivarekar is Queen Bee at 'Diary Of A Dancebee', a blog that talks about fashion, beauty…and films. Yes, her blog is a curious mix of the three, which work amazingly well together. She wears many hats on her pretty and well-maintained – dancer, voice artist, ex-journalist, choreographer, blogger and professor! She is also a winner of many awards, including 'Best Entertainment Blog In India' at the #WIN15 Awards. She has made it big in the blogging world and has bigger plans for her blog in the future. Priya is normally the one asking questions in an interview, but we turned the tables on her and put her in the Interviewee seat. Read on to see how she fared in the interview.  🙂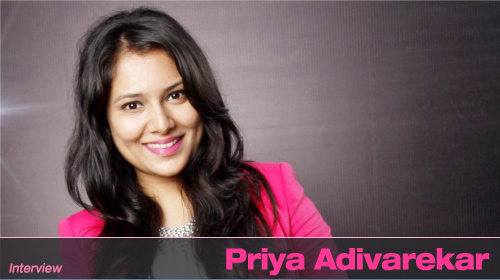 Q. First off, what prompted you to name your blog 'Diary Of A Dancebee'?

It was inspired by Anne Frank's Diary of a Young Girl. The whole idea was to give my blog a name, which is not just unique, but also an extension of my personality. Adding those typical words like 'Style' or 'Filmy' wasn't my thing. So, I stuck to 'Diary of a' and added the word 'Dancebee' (an old nickname given by some friends), which was coined using Dance (as I am dancer) and Bee (because I have always been a busy bee).
Q. Tell us the story of Priya. What made you take the leap from a voice Actress and writer to a blogger?

Not really a leap, because I continue to be a voice actor. But, blogging happened by chance. I wasn't inspired by someone to take it up. It just happened. It was a Gudi Padwa holiday and I was bored studying for semester end exams. In between a break (while checking emails), I got a pop up which read that I had a blogger account which wasn't used since 2-3 years (it was created for fun, so there were no posts). I decided to give it a spin and read a few articles that gave me in-depth information about the international blogging scene. I thought of giving it a try and registered for a custom domain the same day. The same night, I saw some YouTube tutorials that further taught me how to experiment with the layout and templates, and voila! My blog was ready. In fact, even the current template and other details have been designed from scratch by me, and that too, without any formal course.
Initially, I would simple post random musings, opinions on beauty products, runway showcases and films. But then, I started working with a leading publication and my blog took a backseat. It was during my stint as a journalist that I realized I wasn't made to do a typical job and sit behind a desk, writing / editing one article after another. I wanted to explore things on my own. After working for almost 18 months, I decided to quit and give my blog a chance. Since then, there has been no looking back, as I continue to add different dimensions to my blog every month, every moment.
Q. What got the dancebee hooked to fashion, beauty and make up?

I was always interested in fashion and beauty. Since childhood, I would stock up on all kinds of Indian and International magazines, read them, make wall collages for inspiration. I even created trend books from pages of different magazines. The first time I learned how to use an eyeliner and the importance of make up removers was at the age of eight (since I participated in many dance reality shows), so that pretty much explains how I have always been surrounded by beauty and skincare products. Plus, I would always read about makeup, skincare trends, though it was nothing compared to my craze for cinema.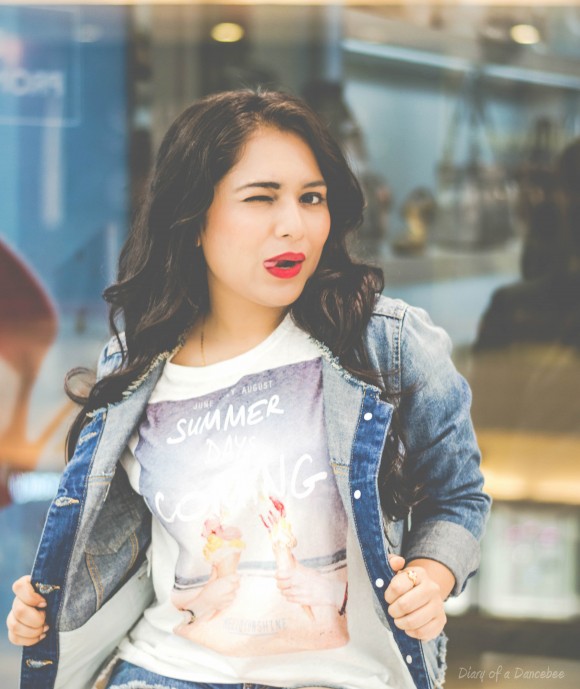 Q. Mixing films with a fashion and beauty blog is something that we don't see regularly. Why did you think of adding the Films and Exclusive Interviews sections?

That is exactly what adds to the USP and uniqueness of 'Diary of a Dancebee'. We have always seen a lot of fashion, beauty and film stories go hand in hand. So, why not a blog that covers all three under one roof? While I have been writing on films right from the start, the section for exclusive celebrity interviews was introduced towards the end of 2014. That was around the time when I quit, got back to blogging and Diary of a Dancebee got a rebirth (I had to literally start from scratch)!
Q. Music, dance, writing and radio jockeying, you have laid your hands on so many creative avenues. How do you manage everything? (not music, but voice acting for films)

And now, also a lecturer to postgraduate students. Ha! I think the fact that I started multitasking at an early age helped. Also, nothing would have been possible without the support of my parents. Coming from a middle class family, it is not easy for any parent to support the decision of their child quitting a job. But, they believed in me and my work. They gave me the freedom to choose, chase my dreams and supported the choices I have made.
The fact that you get to do what you love, and that too on your own, brings a sense of discipline in your life. Being a girl boss ain't easy, but when you have goals to achieve, time management becomes your best friend 🙂 I ensure everything is streamlined smoothly, so that nothing clashes. Mostly, this results in less sleep!
Q. Which section of your blog is the closest to your heart and why?

Right now, it has to be the 'Exclusive Interviews' section. It gives me the chance to meet new people, understand their journey, and learn a thing or two. There is something I take away from each conversation, which stays with me and helps me become a better person. Plus, majority of the fans and followers love how these interviews are honest, real and in-depth, unlike the flavour of the season – Gossip, which is not my cup of tea! Tweets, comments and emails appreciating these interviews fill my mentions/inbox everyday. What more can I ask for?
Q. What is the USP of the Diary of a Dancebee team? How do you pick and choose, and manage your team?

We are young, we are determined and we don't believe in resorting to gossip or cheap tricks for clicks. We like to keep it real! That's our USP. For my team, I like people who are passionate about their work and those who constantly like to learn new things. Also, it's a win-win if they love fashion, films and lifestyle. Same goes for our contributing writers. Since most of my team members either work from home or are based out of Mumbai, we try and have fortnightly Skype meetings. As for the contributing writers, I co-ordinate with them over emails.
Q. Do you follow a blogging schedule or you are good with instant posting? How do you keep your blog updated?

Though I maintain an editorial calendar to streamline things in an organised manner, there are times when I come up with a random idea and end up it posting it within a few hours. But mostly, I try and stick to a schedule.
Q. Tell us about your product reviews and brand posts. How do you decide which brands to write about among the crazy choices available?

I stick to the policy of choosing to work with brands that I believe in. I don't want to put up an opinion of a product that I wouldn't use. Falsely claiming that a product works well is just wrong! It amounts to cheating and is like misleading your followers. All the products reviewed on the blog are tried by me or someone from the team (in some cases, we also approach volunteers) and the opinions are completely honest. So, that helps us zero in on the products that we want to write about.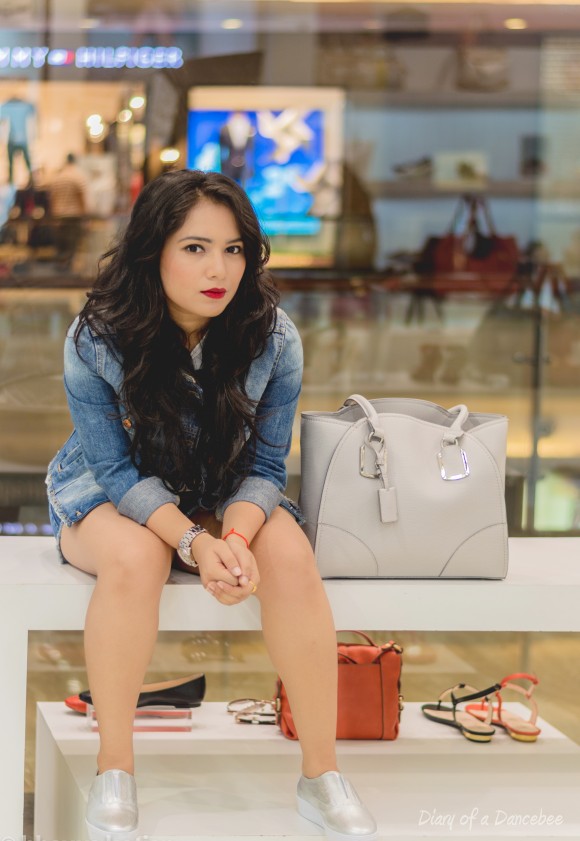 Q. We love your exclusive interviews and movie posts. How filmy are you in real life and what's your relation with movies?

I think I am more than just a filmy person. I am a complete cinephile and films are very close to my heart. I have been brought up on a healthy diet of films, which were a good mix of Hindi, regional and International. Thanks to film festivals like MAMI, I was also drawn to world cinema and got hooked on. I have never been fussy about the kind of films that I watch. I can watch a Hera Pheri or Dulhe Raja and something like an Interstellar or Space Jam with the same amount of enthusiasm.
Also, I can never be too critical. I know the kind of hard work that goes behind the making of a film, and have seen it with my own eyes. So, I am not someone who can go on ranting against a film on social media. If the film in question is very bad, I prefer not to talk about it.
Q. How do celebrities react when they see a blogger and not a journalist interviewing them?

The best reaction I got was from Ranbir (Kapoor), who during Bombay Velvet interviews said that I don't look like a journalist and after a brief introduction went, "Wow! You blog?" In fact, I get that from many people. And when they are informed about the blog, they get excited, especially after hearing the name. Some of them think I may throw an uncomfortable question their way, but with celebrities I have interviewed more than once, things are different. They understand how the interview will shape up and are quite comfortable, friendly during the session.
Q. How much of preparation do you need before an interview? What do you do to make sure your interviews are unique?

No preparation as such. In most cases, I allow the conversation to be natural. Unless, the interview is based on a theme and we need a set of questions centred around a topic. For that, I usually do some research. And as I mentioned, I like to keep my interviews real and in-depth. The whole idea is to let the reader feel that he/she is enjoying a conversation with the actor. They should visualize the conversation in front of their eyes.
Q. Which has been the best interview for you personally and why?

I think, all my interviews with Shahid Kapoor are a personal favourite and will always be special. Apart from the fact that I respect him as an artist, talking to him is always a pleasure. Plus, the fact that he tweeted and called his 'Haider' interview with me (published in 2014) as one of his best till date makes it even more special.
Q. Tell us a memorable incident that happened during your interaction with a star.

There are several memories, but a recent one that is very close to my heart happened this month, where after an interview, I touched Mr Amitabh Bachchan's feet to take his blessings. I was surprised when in return, he kept his hand on my head and blessed me by saying, "Continue to prosper and spread good knowledge. God bless." It was a special moment that I will always cherish!
Q. You have a penchant for books and travel too. How often do you get to indulge in these passions? Do you travel to blog about it or the blog posts are just an added bonus?

I try and read at least 3 books every month. Though sometimes, that number comes down to one. As for traveling, I try to take time out for at least two personal or family trips in a year. They may not always turn into a blog post, but if I find something interesting, I do a feature on it. In case there is an activity that I am working on which requires traveling, then I try to document the highlights of that trip as well. Apart from that, some travel stories are also a part of collaborations.
Q. When it comes to travel, why according to you should one travel? What difference does travel make to you as a person?

Apart from allowing you to break away from the humdrum of the city and taking some time off your everyday routine, it gives you the chance to meet explore new places, understand different cultures, experiment with new cuisines and even meet new people. There is so much learn! Traveling can teach you a lot.
Q.  Which is your favourite travel destination?

I love the virgin beaches of Konkan!
Q. Your blog doesn't have too much 'dance' in it. Have you thought about showcasing your dancing skills on the blog?

You will know about that part very soon! 🙂 We are in the process of working on something new in that department.
Q. You recently started a vlog. What's the purpose and how different does it feel from writing blog posts?

It gave me the chance to do something different and speak, instead of typing. The whole idea was to have a wider reach and a better, visual connect with our fans. Though, we are in the process of revamping the channel now and are currently working on new concepts for this year.
Q. How did you feel when you won the #WIN15 Award? Your on stage performance was one of the highlights of the evening!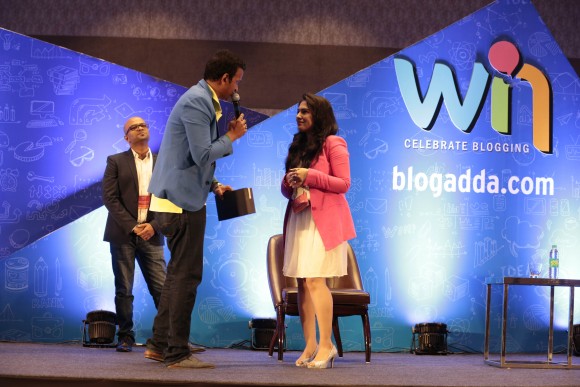 Getting rewarded for something you have always been passionate about is a great feeling! Holding the trophy in my hands and getting to know that both the audience (voters) and jury have appreciated your hard work left me feeling humbled. It has also pushed me to keep raising the bar. Also, I was more than happy to shake a leg on the stage. Sid Kannan's impromptu gig was good fun! Everybody feels like dancing after winning an award, and I got a chance to do that on stage. Isn't that cool? Oh Yes, it is!
Q. You have won many awards for your blog, dancing and journalism skills, what would you choose if it had to be any 1 talent?

I will always be a dancer first. That's my first love, and will always be special! Blogging and Voice Acting or Recording follows next.
Q. Tell us something about your life apart from the blogger personality.What do you like to do when you are not blogging?

When I am not busy with blog based work or activities, I am either recording for films, working on digital campaigns or taking up projects as a stylist. I also take the Online Journalism module for post grad students as a lecturer at Xavier Institute of Communications. During my free time, I like working on random chunks of choreography on different songs or practising basic routines. Honestly, I would like to devote more time for dance in the future. Also, reading and listening to music keeps me calm. Oh, and I love cricket and tennis! I don't miss watching a single match or tournament.
Q. What are the 5 basic fashion rules you follow in your personal life?

1. Be comfortable in what you wear.
2. Let confidence exude in your overall appearance.
3. Let your personality reflect in your outfits.
4. Don't blindly follow trends.
5. Break the rules and don't be afraid to create your own trends.
Q. Which bloggers, authors or personalities do you look up to when it comes to fashion, blogging, books and travel?

Bloggers: Andy (Style Scrapbook), Keiko Lynn
Authors: Difficult to pick a few. But, some of my favourites include Amitav Ghosh, Chitra B Divakaruni, Vikram Seth and Jane Austen.
Q. Any new year blog resolutions that you have? What can your readers look forward to?

I don't believe in resolutions. I believe in dreaming and working hard to turn those dreams into a reality. As for our followers, they can expect a lot of new additions and surprises this year! *fingers crossed*
Q. Where do you see yourself and your blog in 5 years?

Ah! This is one tough question. Even after 5 years, our readers will be entertained with unique and fresh content. Further expansion of the team and exploring new avenues will definitely happen. As for myself, I keep doing a lot of different things. So, I would like to keep working hard, explore new avenues and enrich my life by learning new things. Whatever I do, I shall always strive to make my parents proud.
Q. Tell us three brands that are featured on your blog and you use them regularly in your routine life.

I never work with brands that I don't believe in. If there is a product that I won't use myself, why would I feature it on the blog for others to try? This is one policy that I have always stood by and it will never change. So, I use most of the brands regularly. The top three would definitely be Nike, Levi's and The Body Shop. I am a huge Nike fitness gear hoarder and I love colourful Nike training shoes for my runs.
Q. One gift that blogging gave you and nothing else otherwise can do that?

My fans and followers! It is wonderful to connect with people from all across the globe. Their comments, compliments and sweet words really make my day. Most of them are regular followers and always make it a point to fill my Twitter mentions or inbox with their feedback.
Q. Your advice to bloggers who want to monetize their blog.

The intention of starting my blog was never linked to earning money. But, the first step to ensure that you earn through blog is be different! Make sure that your content stands out and you are really honest with your work. You can earn through brand activities, digital campaigns or other projects. In addition, the option to earn by placing advertisements or promoting a brand's campaign through ads is always there. But, if you start a blog with the sole intention of earning freebies, turning to plagiarism and copying ideas from other blogs, then nothing will help you. Passion, good writing skills, perfect balance of good content and visuals, and of course, honesty is a must.
Quick Questions:
1. One thing you'd like to change in your blog: Nothing
2. If I had to pick one celebrity dance partner, he/she would be – Shahid Kapoor, undoubtedly!
3. My inspiration for blogging – Amitabh Bachchan
4. 3 words that describe Priya the best – Dreamer, Believer, Achiever
5. If not a blogger, I would have been – Journalist or Social Media Manager. Or, back to Radio Jockeying.
6. 5 beauty must haves in my vanity case – Lip balm, eyeliner, moisturizer, a good perfume and a bold red lipstick
7. In 2016, I plan to travel to – A trip to Amritsar has been pending for long!
8. My dream interview would be with – Right now, Sachin Tendulkar tops the list!
So that was Priya Adivarekar for you. We loved meeting such a young, fun and inspirational blogger through this interview. What are your thoughts on it? Let us know in the comments below!  🙂