'Catch them young!' seems to be the mantra these days. Business is no longer the domain of only seasoned professionals. The earlier students get on the business express, the faster they can climb to the top of the entrepreneurial ladder. In an effort to inspire young budding businessmen and women to take the plunge, Shri Ram College of Commerce presents its annual undergraduate festival – Business Conclave 2016.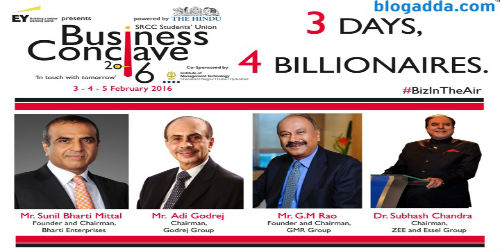 This festival, presented by India's leading undergraduate institution in business and economics, is slated to be held from the 3rd to the 5th of February 2016. The three day management extravaganza will host 4 billionaires, along with many other speakers from different walks of life. The billionaire speakers are Mr. Sunil Bharti Mittal – Founder and Chairman, Bharti Enterprises, Mr. Adi Godrej – Chairman, the Godrej Group, Mr. GM Rao – Founder and Group Chairman of the GMR Group, and Dr. Subhash Chandra – Chairman of the Essel Group of Companies. The Business Conclave 2016 is a great opportunity to watch the leaders of today engage with the leaders of tomorrow.
There are many other speakers lined up for the 3 day conclave, and the highlights include events like Shri Ram Case Study Competition, Maestro The Best Manager, Anthropos Kapital, Young Leader's Initiative and many more.
If you have the acumen to be a successful business person, and need some inspiration from people who have made it big, Business Conclave 2016 is one event you can't miss!
For more information, visit https://www.facebook.com/BusinessConclave.
Business Conclave 2016 Website : www.srccbusinessconclave.com
Follow the hashtag #BizInTheAir on Twitter!