Falling in love is one of the greatest things we can experience in this human life. The moments which we spend with our loved one are the treasure that we accumulate over the course of life together. It is easy to fall in love, and just as difficult to keep a relationship alive, exciting and wonderful for a long time. We believe that laughter is the strongest cement that keeps your relationship going forever. What's your #LoveAndLaughter story?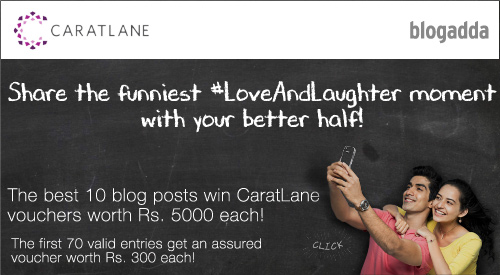 CaratLane and BlogAdda present the #LoveAndLaughter activity. Share the funniest #LoveAndLaughter story with your better half through a blog post! Tell us a beautiful memory of the time when laughter made your relationship more beautiful. They say that marry a person who can make you laugh, because as you grow older, your partner's ability to make you laugh matters more than their looks or how much they earn. Think about it. Laughing with your loved one over the silliest thing can make your day. Even when you have a fight, one funny comment from your partner can make you chortle and diffuse the tension. Sharing a laugh makes sharing your life with your dream partner a beautiful and memorable journey.
As the season of love approaches, we want you to share these memories with us, and your readers for the CaratLane #LoveAndLaughter activity. Dive into your love story and come back with a glittering blog post of a time filled with love and laughter.
Prizes:
The best 10 blog posts win CaratLane vouchers worth Rs. 5000 each!
The first 70 valid entries get an assured voucher worth Rs. 300 each!
Click on the button below to submit your entry.
Mandates:

1. The word limit for every blog post is a minimum of 400 words.
2. Please include the line, "This post is a part of #LoveAndLaughter activity at BlogAdda in association with Caratlane."
3. Only blog posts submitted through this form will be considered valid.
4. The last date for submission of this blog post is midnight, 11th February 2016.
5. One blogger can write a maximum of 2 blog posts for this activity.
6. Please embed the below video in your blog post for it to be valid.
Share #LoveAndLaughter with the world and make it a better and happier place with your blog post!