The new year is a great time to do something different, and indulge that stroke of inspiration that is so difficult to find. The best, most exciting way to find this inspiration is to find yourselves a muse. Stories and poems have been written about muses, so how about you write a blog post on them?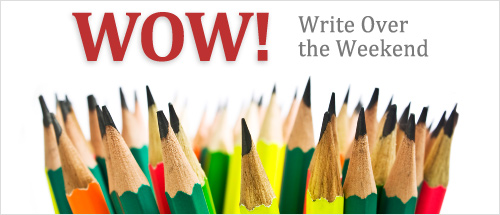 This week's WOW prompt is – 'The Muse'
When we said 'muse', the first thought that came to your mind was a beautiful lady, right? Not necessary, as a muse can be anything, from a pet to a teacher, an abstract thought to a favourite place. This week in our WOW prompt 'The Muse' we ask our bloggers to weave a post around the concept. It has to be relevant to your real life or it could be a piece of fiction. So tell us about your muse, the thing that inspires you and coaxes you to create something magical. We're waiting!
Remember, you have time only till Sunday midnight to submit your blog posts and have a chance to get the WOW badge!
Include this code:
This post is a part of Write Over the Weekend, an initiative for Indian Bloggers by BlogAdda.
Good news! There is now an easier way to submit your WOW entries, so just click on the submission link below for your WOW entry to be considered valid.

Every weekend, we give creative writing prompts for you to write blog posts on! Hope you enjoy our creative writing inspiration for this week. 🙂
All those who are featured in WOW can now flaunt the WOW badge on your blog. Download your badge now!