There are some blog names which make you wonder what the blog is about, and then there is Nitika Bhatia's blog. 'The Shopaholic Diaries' makes it loud and clear what Nitika is passionate about and what you'll find in its pages. Nitika has turned her love for fashion into a full fledged blog, and fashionistas can spend hours meandering through its pages. The winner of the 'Best Fashion & Lifestyle Blog' at the #WIN15 Blogging Awards is now in conversation with BlogAdda. Read on and get your fashion fix.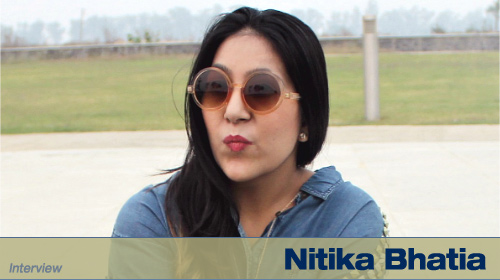 Q. Tell us about your interest in fashion and lifestyle. Can you trace this interest back to a particular time or incident which sparked your passion?
I have always been a shopping addict. And during my MBA days I remember taking my friends out for shopping trips as they loved my choice. That's when I started taking my interest in Fashion & Lifestyle seriously and I believed I could take it ahead in blogging.
Q. Tell us about your life before you started blogging.
I have tried different streams before I started blogging, I had studied to be a doctor, but lost my interest and completed my Bachelors in Bioinformatics and then completed MBA in International Business, but finally found my love & passion in blogging.
Q. The fashion world is quite huge. What would you say is your niche in fashion blogging?
I have always maintained my blog to be from the point of view of a Girl Next Door, which has helped me share my love for fashion and connect with fellow fashionistas who love to keep it real.
Q. How do you keep track of new fashion trends? Any particular magazines, websites or sources you follow?
Along with blogging, I also work for a fashion-based startup, which has helped me stay updated with latest trends and stories. I also regularly read fashion columns and magazines like Vogue, Elle and Femina.
Q. Tell us your process of putting up a blog post. How do you plan and upload your posts?
Whenever I have an idea for a new post, whether it is an Outfit post or a Review, I gear up by putting the pieces together and first completing the Lookbook/product shoots, and then I work on the content. This helps me keep the pictures and the content in sync with each other.
Q. Do you have fun at blogging events? Tell us about a memorable experience you had at such an event.
I really like attending blogging events, especially blogger meets as I get a chance to catch up with fellow bloggers and have a good time discussing about the current blogging scenario, fashion & beauty talks and more. The most memorable experience for me was definitely the Tata Zest event in Goa which was organized by Blogadda where I had a fun time with my blogger buddies.
Q. We love your haul posts. What are your top destinations to shop?
For street shopping it's Sarojini Nagar and for high-street brands, I always visit Select Citywalk in Delhi which houses all my favorite brands like ZARA, H&M and Mango.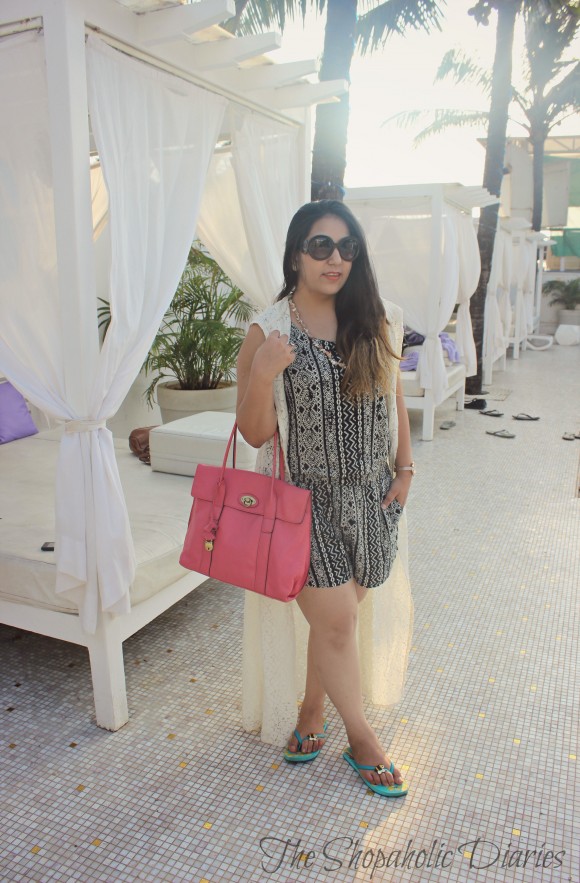 Q. What are the 5 top shopping tips you wish to give to our readers?
a. Go on a budget
b. Choose quality over quantity
c. Wait for the sale season if you are into Impulse shopping.
d. Always try before you buy, or else you will end up with a pile of clothes that don't fit properly.
e. Invest in wardrobe staples
Q. How much of a shopaholic are you really? Tell us how you live up to your blog's name.
Well, my Instagram account and shopping haul posts are a proof to that. While I am not very proud about it, but to put in simple words – If I am stepping out to a market or a mall, I never come home empty handed (even if I try hard not to shop).
Q. Out of all your categories, which are your favourite posts to write and why?
My shopping haul and review posts for Online Shopping websites are my favourites as I love to share my experiences with the readers, so that they know if the particular website is worth trying or not in today's time when everyone wants to shop online.
Q. Most fashion bloggers are also very passionate about make up. You seem to be an exception. What's your take on make up, and which products are your favourites?
I do like makeup, but I am not crazy about it except lipsticks. I love having a bright color lipstick on even if I keep rest of my face bare. I have 30 MAC lipsticks in my vanity kit which I am really proud of. Apart from that I love wearing a BB cream and an eyeliner.
Q. What, according to you, is the best part about your blog and how do you keep it that way?
I would say the best part of my blog is the Curvy Style Guide section, through which I share outfits that curvy women like me can wear confidently without feeling conscious about their body types. I try to add new styles in this section keeping in mind the latest trends which curvier women feel shy to try.
Q. Do you think fashion blogging boils down to good taste and know how, since there is no technical qualification required? What should one do to be a good fashion blogger?
Gone are the times when Fashion Blogging used to be niche, as these days everyone out there happens to have a fashion blog. While there is no qualification necessary, it is really important to know your forte and work on that with pure passion and complete knowledge, as blogging is not only about getting freebies or event invites. If your posts connect well with your readers, and they are coming back to read more, you surely are set out to be a good blogger.
Q. You won the #WIN15 award for the 'Best Fashion and Lifestyle Blog' in India. What was your reaction? We'd love to read an acceptance speech from you.
Oh I really wish I was there in Mumbai to accept my award. Well, when I saw the tweet about my win, I was truly ecstatic and couldn't believe I had finally made it to the top. Blogging has always been my true passion and getting recognition for the same surely means that you are going in the right direction. The best part was telling about it to my family, who have always supported my passion and seeing the pride in their eyes which gave me true delight.
Q. Tell us your thoughts about the fashion industry in India. Have we become more experimental and daring in our choices?
Definitely! Fashion industry in India is continuously evolving and we are becoming more open to accepting new trends and styles which we earlier felt insecure about. The best part is that today's fashion is bringing body positivity among the youth by giving them fashionable choices and encouraging them to look their best.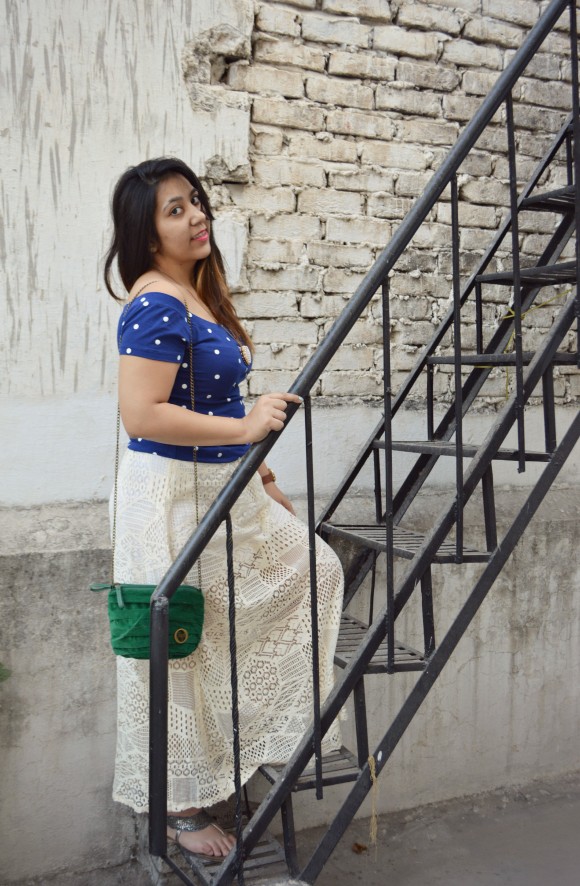 Q. How much has online shopping changed the fashion scene in India. What major differences do you see?
Online shopping is evolving like never before and this is the best phase for shoppers like us who have numerous options to try before making a final purchase and get the best deals. It's amazing to see international brands also starting their e-commerce portals in India, making the industry really competitive and helpful for the customers.
Q. How do you decide which brands to associate with and which products to review?
I have always maintained as a blog policy to work with brands that I personally believe in and have tried myself. If I feel a particular brand or product does not fall in sync with my blog's theme or would not be of any help for my readers, I don't take up an association with them.
Q. What are the challenges that you have faced as a blogger and what are the ways in which you overcame them?
From getting acceptance as a profession as par with professions like journalism to getting remuneration in monetary terms instead of freebies for our work and efforts – I have faced a lot of challenges in last 4 years. But I have always believed that I won't let this affect my passion for blogging, and would never work against my ethics and values, even if it means having to refuse some associations.
Q. What is your definition of fashion?
Fashion for me is being comfortable in my skin and to feel confident in myself.
Q. How would you describe your personal style?
My personal style is a mix of chic and comfortable. I believe in staying updated with the latest trends and tend to keep a blend of my personal style and what's new in fashion.
Q. You have a 'Shop With Me' section on your blog. Please tell us about it.
I have always wanted to start my own e-commerce portal, and this section is just a beginning step to that. Through Shop With Me section, I give a chance to the readers to shop apparel to accessories from my Facebook Page called What's In Store from a collection specially curated by me in affordable prices.
Q. Have you watched the movie 'Confessions of a Shopaholic'? Do you relate to the main character?
Oh yes I have and I totally relate to the main character. However, I have never went as crazy as going bankrupt from shopping as I always put a budget to my shopping sprees. And once in every few months, I go for a shopping ban to get a control on my expenses.
Q. Any fashion secret that you would like to confess to BlogAdda?
Repeating an outfit is Okay! I always tend to buy separates (tops, skirts etc.) which I can mix & match in various ways and repeat them as and when I like.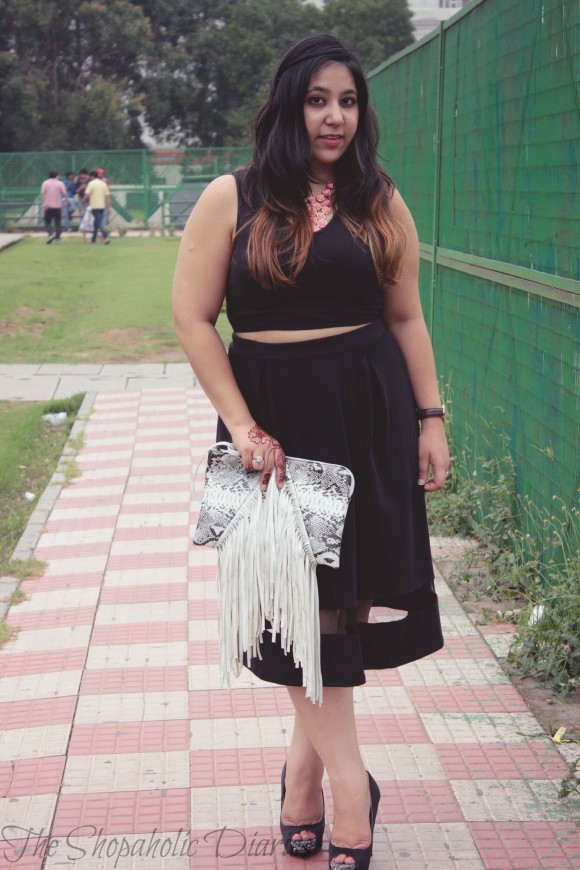 Q. Who are your style icons and what do you like about them?
Sonam Kapoor has been my Style icon ever since she has stepped in the industry as she knows how to carry herself in any kind of outfit – be it ethnic, fusion or western – she knows what works best for her figure.
Q. How can someone be a full time fashion blogger and make blogging a profitable enterprise?
Blogging regularly, connecting well with your readers, staying updated with the latest social media trends and knowing your worth is really important for someone who wants to be a full time Fashion Blogger. Also, one must remember that success doesn't come overnight, one has to be patient, passionate and unique if they have to succeed in this now-competitive field.
Q. We'd love to know about your life outside blogging. What do you enjoy doing in your free time?
With my second job as a Social Media Manager, I only get the weekends to myself which I spend over shopping, trying out new restaurants with my friends and watching latest movies. I also enjoy reading novels and going for walks whenever I am free.
Quick Questions:
1. Best fashion brands according to me: ZARA, Vero Moda and MANGO
2. Beauty tips I swear by: Following CTM routine twice a day
3. One outfit/ fashion accessory you're currently lusting after: LV Speedy 30 which is in my current wishlist
4. The first thing you notice in a person is…: If he/she is dressed smartly.
5. Blogging for me is…: Passion and First love
6. What my perfect day will be like…: Shop, complete a Blog post and have a sound sleep.
7. What's next for me after fashion blogging: Starting my E-commerce label.
Doesn't this interview make you want to run to your favourite fashion store and splurge? Tell us what you think about the interview in the comments section below!