Saturday! Saturday! What an arrival! Bang on time. BlogAdda wishes each one of you a very Happy New Year. As we slide into 2016, BlogAdda bids a goodbye to an eventful 2015, memorable blogger sessions and that leaves us behind with a storehouse of some amazing blog posts that are every reader's delight. Amidst all that frenzy around us, the gamut of emotions and much curiosity to know what is in store for us in 2016, we look back to some Spicy Saturday Picks that we enjoyed reading as much as you did writing. Below are the picks as 'Best Spicy Saturday Picks of the Year 2015'. Treat yourself as we look forward for another and a better beginning.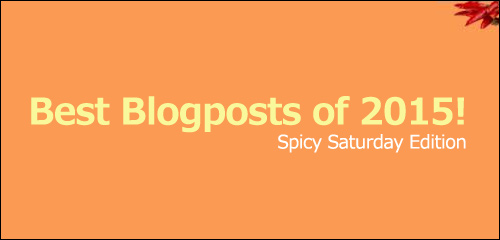 ---
---
---
---
---
---
---
---
---
---
---
Tell us how did you find this edition in the comments below. If you have a great post from 2015 that is a must read, do share it with us. Wish you all a very Happy New Year.
---
Have you checked out 'Conversations' where you can Connect, Learn & Share. Do check it out and participate. You can now tip your blog posts for Tangy Tuesday and Spicy Saturday Picks right from our homepage. Click on the tabs and submit your posts.You can also tip us on Twitter @blogadda or using our contact form. If selected, you'll be credited for it and the readers will get a chance to read something worthy.