BlogAdda wishes everyone a very Happy New Year! May you have a great year ahead and fulfill all your wishes and dreams. So this Friday has arrived bang on time. We are sure you all have your own resolutions and a customised to-do lists for yourselves  but this weekend we have someting different for you. Have you mulled over the things that you DO NOT wish to do in 2016?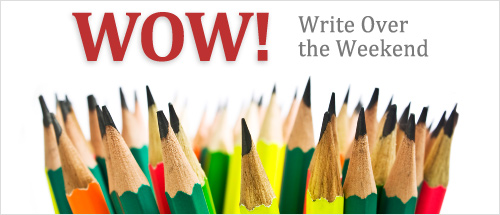 This week's WOW prompt is – 'It's Not My Resolution'
Every year we do this. A year passes by giving us memories to cherish and a new one welcomes us with new hopes and aspirations. That is what helps us make our to-do lists. But this weekend you are going to something different. The prompt for the week is 'It's Not My Resolution' and you will write a fun, quirky blog post on things that you will NOT DO in 2016 or from 2016. It could be discontinuing a bad habbit or it could be as wired as not studying anymore. Whatever it is, your not-to-do list should make 2016 more interesting and fun for you as well as others. So get down on your desks quickly and jot down all not-to-do-things as the year has already begun.
Remember, you have time only till Sunday midnight to submit your blog posts and have a chance to get the WOW badge!
Include this code:
This post is a part of Write Over the Weekend, an initiative for Indian Bloggers by BlogAdda.
Good news! There is now an easier way to submit your WOW entries, so just click on the submission link below for your WOW entry to be considered valid.

Every weekend, we give creative writing prompts for you to write blog posts on! Hope you enjoy our creative writing inspiration for this week. 🙂
All those who are featured in WOW can now flaunt the WOW badge on your blog. Download your badge now!