INK Talks has a rich history of bringing the most inspiring people on board for sessions that inspire, challenge traditional thinking and give the attendees food for thought to last the entire year, till the next INK Conference. The speakers have a lot to offer, so it's natural that the wonderful interactions with them spill over after their talk too!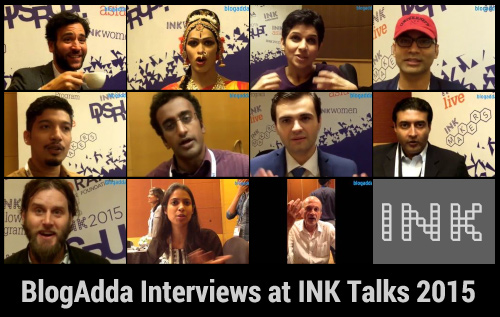 INK Conference 2015 was no different, and the attendees were spellbound by the amazing life experiences that all the illustrious speakers shared. As partners of INK 2015, we at BlogAdda couldn't get enough of the speakers in the sessions, so we sat some of them down for candid interviews where we dug deeper into their thoughts and lives.
Watch these exclusive interviews below.
Josh Radnor talks about his experience at #INK2015, his visit to India, and the responsibility and vulnerability he feels as a celebrity.
Arunabh Kumar of TVF on creating original content, the future of vlogging and the roadmap to his success.
Sharad Devarajan of Graphic India talks to BlogAdda about the immense potential that India has in the world of comics and graphic novels and his plans to put India on the global superhero map.
Kirthiga Reddy reveals what inspires her to take Facebook India to new heights and the strategies for the same. She also has some pointers for how to use digital communication to empower yourself.
Haleem Khan, who performs Kuchipudi dressed as a woman, opens up about his positive approach to life despite all the struggles he faced to follow his passion. A truly inspirational interview!
These are not all the interviews that BlogAdda did. But it's good to keep some cards close to your chest, right? So watch all these videos and then head over to BlogAdda's YouTube channel to watch more #INK2015 interviews!