One look at Sheena's blog, and you wish you had her life. From traveling to places that are still waiting to be crossed off everyone's wish list, doing food tours and work exchanges, to branching out with design projects, Sheena has done it all. And recently, she has gone out and won the Best Travel & Living Blog Award at #WIN15! Without further ado, let's dive into this interview with Sheena to get a glimpse of the charmed life she has created for herself.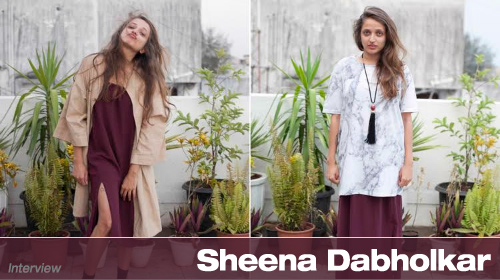 Q. Tell us a little about your life before This Is Sheena took over?
I had blogs before this one, but I wanted to use my real name when I decided to have a portfolio-blog combo. Let's see, I was born in Pune, but I moved to Auckland, New Zealand as an adolescent and lived there and in Melbourne, Australia until I moved back to India in 2009.
I have a degree in communications, I'm a writer, photographer and art director and I run an editorial and visual content studio called Lover aside from running thisissheena.com.
Q. What prompted you to start blogging? Where did this love of writing and photography grow from?
I've been blogging in some form or the other ever since I started using the internet. Back then (circa 2000) it was Geocities and Livejournal. I was always a diarist, documenting everything has always been a part of my life. I always loved writing, even as a child, and I've always been a visual person, everybody in my family is quite creative but I can't draw to save my life, so photography seemed like a complementary skill to have.
Q. Which is your favorite section from your blog if you had to choose one?
I love the Design category because it's the most hands-on. I also love compiling the visual diaries.
Q. Are there any challenges you face as a blogger/writer? What are they and how do you overcome them?
Time is my only challenge. If I could create six more hours in the day I would. I try and set aside time to write and edit for my blog most days though even though I don't press publish that often.
Q. How do you plan your blog posts? Do you schedule blog posts on different topics beforehand or blog as and when inspiration strikes?
I definitely have a blog schedule though it's quite flexible, and I'm terrible at adhering to it. I have a huge list of subjects saved in my notebook and I always have a few drafts on the go. Time-sensitive posts will always take priority though.
Q. You have your fingers in many pies – traveling, blogging, photography, freelancing and even cooking! How do you manage to balance time and ensure you get to do everything you love?
I'm lucky to have a job and life I really love. And I get to do all those things both personally and professionally. I think saying no is really important, I often turn things down when I know I can't give them my best, it helps me maintain a balance as well as keeps me sane.
Q. Which of the above things do you love doing the most? What does your typical day look like?
I can't choose my favourite but that's okay because I don't have to.
I have two sorts of typical days. One at home and the other on assignment. If I'm home, I'll wake up and go to bed late, cook, run errands and spend most of the day/night at my computer writing or editing, either for work or the blog.
On assignment I'm generally travelling, I wake up early, spend the day working, making notes, taking photos, reviewing things, with very little screen time.
Q. You also indulge in a lot of short term projects. Take us through what makes you zero down on a project and its execution. We would like to know more about each of them.
I have always been a project person. I've mostly freelanced or taken on short term projects in my life, because I like to finish things. I do commercial projects and work with brands for Lover but it's my personal projects that make me happiest. I have a few ongoing photography projects – one is of quiet images of India, another is of the 'loose change' that we are given in the form of candy and other rubbish, and then I have one called The Grandmother project which are stories about grandmas because I was raised by mine and I'm working on a book for teens.
Q. You have a love for sustainable and organic living. How was the love of environment born and what tips will you give for sustainable living based on your experience.
I think I figured out pretty early on in life that if we live on a planet, and want to breathe its air and eat from its land and swim in its oceans, it makes sense to take care of it.
My simplest tip for sustainable living: Stop buying stuff. We consume too much. Even recycling requires resources, so just stop buying. Say no to stuff, say no to plastic (bags, straws, items), buy fair trade and ethically made.
Q. What other social causes are you associated with? How can bloggers make a difference?
I think bloggers have the power to spark debate about a lot of issues. I talk a lot about civic issues especially public space, feminism, race and literacy. The farmer and refugee crises break my heart. I contribute to wikis, and crowdfunding initiatives as much as I'm able to. The last one I supported was girlsatdhabas, a female-friendly dhaba in Karachi.
Q. Do you keep your blog in mind whenever you travel, cook, create? Do you take notes or otherwise chronicle your life differently as a blogger?
I know it's weird to say this but blogging is a huge part of my identity. I'm super introverted and it definitely motivates me to seek out things out and/or document things I like for posterity.
Q. Have you found any difference between travel in India and in other countries? What are the biggest contrasts and similarities?
I don't really know. My travelling style in India is a little bit different, mostly because I tend to do short trips with friends and family and we tend to choose luxury: live in hotels, hire cars, etc. I often tend to spend much longer abroad, so I try to live like a local.
Q. 3 places on earth that you are yet to visit, want to visit now and why?
Israel because it seems so foreign but I have so many friends who live there and I hear Tel Aviv has a very contemporary design scene. Mexico for the food and textiles. Greece for the culture and the islands.
Q. Which have been your most memorable travel experiences? Would love to hear your travel tales.
All my firsts stand out as most memorable, novelty can be a wonderful thing for imprinting memories in your brain. My first overseas trip ever with friends was to the Gold Coast in Australia (we were 19), my first and only trip around India with my best friend by train, my first international work trip to Kenya (two weeks on safari!). I like offbeat travel. Some of my favourite travel tales are under the 'Do' tag on my blog.
Q. Among the interviews on your blog, which one is a special one?
I love the one with Sana because we explored the city through it which was very special.
Q. What was your reaction to winning the #WIN15 Blogging Award for Best Travel & Living Blog in India?
It was very unexpected. Actually I was surprised to even be nominated but I was definitely thrilled.
Q. What are your future plans with your blog?
To keep at it. I'm planning on launching a secondary blog at loverand.co early next year which will incorporate more people's work and voices in addition to mine.
Q. How (digitally) social are you? How do you use social media to stay connected and promote your blog?
I think I'm on every platform and I'm probably most active on Instagram though I love Twitter the most. Social media has helped me make some wonderful relationships and is responsible for many of the opportunities I've received. I do share my blog posts via my social accounts but to be honest, I could be a lot better at it.
Q. Have you ever thought of writing a book? If yes, what would it be about?
Yes! I'm currently working on a book for teenage girls. It's a visual book about life and growing up, which I think is hard for everybody so it's just a book that will hopefully be interesting and inspiring.
Q. Do you think the Indian digital world is ready for patronage of bloggers like you? Why did you think of starting your Patronage project?
I'm not sure but I've seen crowdfunding become increasingly popular lately and people have started become more open to the idea of supporting new ideas.
I started the Patronage campaign because I wanted to experiment with alternative streams of income for the blog while retaining creative control and maintaining its integrity.
Q. What advice would you give to bloggers who are trying to make their blog sustainable/ profitable?
Figure out what works for you. Having a sustainable blog means different things to different people. It's profitable for me because I have probably gotten 90% of my work-related opportunities because of my blog. I don't earn directly from it besides my Patronage campaign.
Q. What are your own guidelines for honest brand associations/ sponsored/ invited reviews?
If I don't think it fits with me as an individual, it doesn't go on my site, it's quite simple. I turn down most sponsorships as they don't really offer much value, I write only about what I'd want to read about, I generally don't attend anything in exchange for posts. That is not original content to me and certainly not something my audience wants to read about. I don't want to write or read about a shampoo sponsored by that shampoo company, that is not blogging, it is copy/advertising.
Q. Of all the places you have traveled, which is your favorite place to be you and unwind?
Goa. Goa is part home for me (I'm half-Goan and I have family there) and part holiday. I love it in every season, I love the beaches, the food, everything.
Q. Which is the one story/ incident that has happened with you that you'll tell your grandchildren someday?
I'll tell them about the time I decided to go travelling for three weeks and came back seven months later.
Q. Give us a peek into your bucket list.
I don't have a bucket list. I think I made one when I was much younger and I found it a few years ago and thought, 'Who is this person?' I think goal setting is important though. Next summer I want to travel to Bulgaria, Greece and Sweden. I'd also like to live by the beach, and run a farm.
Quick Questions:

Your dream travel partner
Anybody who likes exploring, hanging out in parks and eating a lot.
If money was no issue, your ideal trip would be to…
South America. It just feels so far.
One thing you love most about yourself
I love my brain.
Your motto for life
Less is more.
Favourite item in your wardrobe
A t-shirt that's so worn out, it's in tatters but it is so soft, I can't part with it.
What makes you feel beautiful
Nature, especially the ocean.
Your most challenging creation till date
All deadlines.
Craziest thing you've ever done
I don't know if it qualifies as crazy but I once got a photography gig (in India) that required me to leave a few hours later for Spain (but I'm lucky enough to have a passport that allows this).
What are you most scared of
Not waking up in time for a flight when my alarm goes off.
Your idea of a romantic date is
Sunbathing and drinking wine on the beach.
Well that was our interview with Sheena. Tell us your thoughts about the interview and share it if you like it!  🙂