On the 20th of September, BlogAdda witnessed #CelebrateBlogging with its blogger community. #WIN15 was the day that will be recalled as an extravaganza that saw Indian bloggers unite under one roof. We had renowned speakers and big names from the digital world who talked about the trends in the ever changing Digital and Social world. And the event was kicked off with Lakshmi Pratury's keynote address.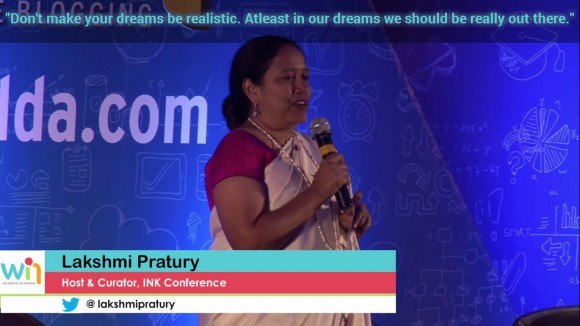 We couldn't have thought of anyone better than Lakshmi Pratury to start off #WIN15. The idea behind #WIN15 was to encourage bloggers to share their stories and make their voice heard in the digital space. Which is exactly what Lakshmi stands for. As host and curator of INK Conference, she knows all there is to know about storytelling. #WIN15 attendees got a glimpse into her thoughts about storytelling through her keynote address where she touched upon the power of words and how it can be harnessed to change the world.
This was what Lakshmi inspired us to do. To think outside the box, solve problems and make your story known. But the biggest takeaway from the talk was that all of us should be heroes and heroines, of our stories at the very least. Lakshmi Pratury gave the listeners HOPE – Humility, Originality, Persistence and Preparation & lastly Energy and Entertainment.
BlogAdda was proud to have her as one of our speakers at the WIN15 stage. She was the keynote speaker who enlightened the audience on the warp and weft of storytelling. She brought storytelling in the lives of young and the old to enhance the process of original thinking. She took us through the channel of creating stories, nurturing them and bringing alive the purpose of each. That we belonged to the land of storytellers was a fact that so many of us were reminded of. Some quotable quotes that #WIN15 delegates will always remember are –
'One must not speak to become a master of universe, but one must speak to become a player in it'.
"Great Ideas come from listening to something that has nothing to do with what you are doing".
'It is the stories around us that inspires one to constantly deliver originality in the art of storytelling.

She engaged the audience with her rich experiences throughout her life talking about how stories around her inspired her constantly. She went on to quote that 'Her experience renounces the fact that having a multidisciplinary approach in learning helps one remain open to diverse perspectives.'
BlogAdda thanks Lakshmi for bringing in valuable insights and perspectives for the bloggers.
Watch the full video of Lakshmi Pratury's keynote address below: