In 1967, Louis Armstrong famously sang, 'It's a Wonderful World'. If he were alive today, we're sure the words would get stuck in his throat, because it surely isn't a wonderful world anymore. The Paris attacks on 14th November, which killed 132 people (and counting) and injured more than 350 people have not only shaken the soul of the world, but also made us take a long, hard look at ourselves.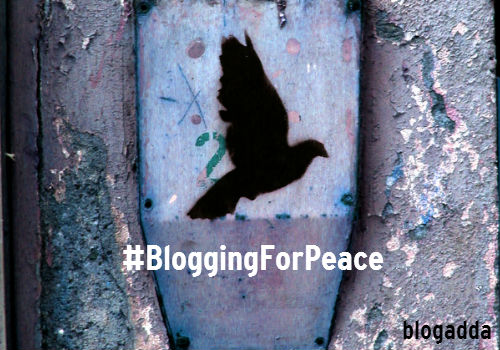 Why are innocents slaughtered like animals at the will of terrorists? What goes on in the minds of terrorists and their handlers as they unleash such cold brutality against their fellow humans? How are the dots of terror connected everywhere in the world, threatening all of us? When and how can we put an end to this barbarism? Attacks on Mumbai, London, Peshawar, Baghdad, Kenya, Syria – what will it take for us to say ENOUGH! We will not stand by and watch as mothers are forced to mourn for their fallen sons and daughters?
All of us are in throes of grief for our fallen brothers and sisters, regardless of the country they belong to. Grief has its own lifecycle, and we'll take time to work through our grief. But through these times, let's start a new cycle by #BloggingForPeace with BlogAdda.
BlogAdda stands with all the victims of terror, and with the leaders and citizens who have vowed to end such carnages. You can also join in the movement by writing for #BloggingForPeace. The power that words, especially in the digital world cannot be underestimated. Bloggers have sparked movements, overthrown regimes and changed mindsets across the globe. It is time for you to do the same. Write your feelings about this mindless terror, discuss the cause of it, give a solution, or just stand with the ones grieving through your blog.
Our words have the power to heal, comfort, change, inspire and broaden minds. Use the gift of words that you have been given in #BloggingForPeace. The world needs to hear your voice. Submit your blog post by clicking on the button below.
Submit your blog post of a minimum of 300 words (word limit not mandatory for poems) before 26th November, 2015, and BlogAdda will feature them on a special #BloggingForPeace page. We hope you can find it in your hearts to blog for this activity, and be the voice of reason in these trying times. Do spread the word among your blogger friends, because the world needs us to band together right now.