Good evening, this is your Captain speaking. Flight No. 2015 is now flying over October at the speed of sound. Seriously, where did the year go! One moment we're bringing in the new year and before we know it, And before we know, we'll be bidding good bye to the fast and the furious 2015. Well that's life, but let's enjoy October while it lasts, right?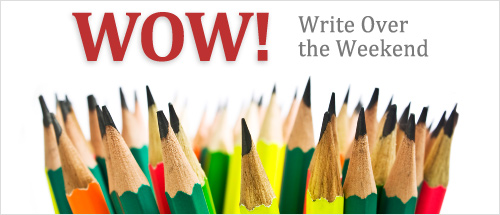 This week's WOW prompt is – 'Bittersweet October'
It is a never ending cycle, a new season comes and an old one passes by. We have myriad experiences that become an integral part of ourselves. So how has your passage been? This week's WOW prompt asks you to review the lives and times. It could be yours,  or someone you know, or a fictional story! Gather your wandering thoughts and capture all that is bitter and sweet about this season of change.
Remember, you have time only till Sunday midnight to submit your blog posts and have a chance to get the WOW badge!
Include this code:
This post is a part of Write Over the Weekend, an initiative for Indian Bloggers by BlogAdda.
Good news! There is now an easier way to submit your WOW entries, so just click on the submission link below for your WOW entry to be considered valid.

Every weekend, we give creative writing prompts for you to write blog posts on! Hope you enjoy our creative writing inspiration for this week. 🙂
All those who are featured in WOW can now flaunt the WOW badge on your blog. Download your badge now!