INK is a brand that has gone from strength to strength since its inception in 2010. It's a name that stands for influence, innovation and actionable inspiration. Amazing speakers, workshops with dollops of engagement and learning and meeting like minded people with a thirst for knowledge just like you – it's all there at INK Live 2015! And guess what, you can be there!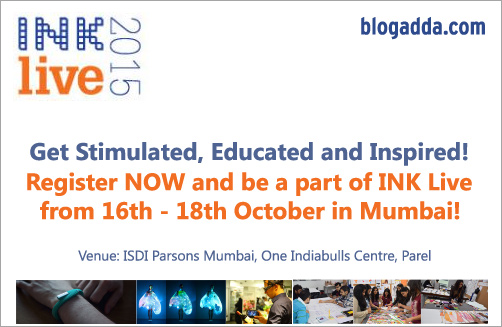 INK Live 2015 will be held from the 16th – 18th October 2015 in Mumbai. Continuing our association with INK, BlogAdda is proud to announce that our family of bloggers is invited to attend INK Live.
Blogadda is offering 20 free passes to INK Live 2015 for active bloggers. Apply today to be a part of the immersive 3-day event in Mumbai, October 16-18th, 2015 at ISDI Parsons. The workshops include Drum Circle with Recycled Instruments & Djembes, Art and Technology Fusion, Wearable Technology, Introduction to Design-led Innovation, Re-defining Fashion and Visual Effects & Real Time Media. You can click here for more details of the workshops. These are workshops that you can't afford to miss! What's more, Josh Radnor, Arunabh Kumar and some other speakers will also be present LIVE at INK Live for sessions!
Apart from the workshops, being at INK Live, which will be co-hosted by Varun Agarwal, will also give you the exclusive opportunity to witness the real – time telecast of the INK Conference, where stalwarts like Josh Radnor, Irrfan Khan, Anu Aga, Arunabh Kumar, Emily Levine, John Mescall, Kirthiga Reddy and many more will hold court on the themes of Erupt, Expand, Engage, Evolve, Merge, Emerge, Evoke, Embrace and Tandav. Tempted? Get more details here and we're sure you will be even more sorely tempted.
So register by clicking on the button below before midnight of 11th October, and we'll get back to you shortly if you're shortlisted. Easy peasy, right?
Click To Register!
We guarantee that the 3 days of INK Live 2015 will be some of the most memorable moments of your life. Trust us, there is no better way to massage your brain (yes brain, not your head) than to attend INK Live 2015.
So what are you waiting for? Register now and get a once in a lifetime chance to be at INK Live 2015!