Television is the most wanted form of entertainment. Whether you are alone or enjoying an evening with your family, the TV is a perfect companion. Most of us get our daily fix of news, entertainment, songs, knowledge and more through the idiot box. But there is something that puts the brakes on this daily fix. And that is the commercial break. Why not write a post about this omnipresent phenomenon?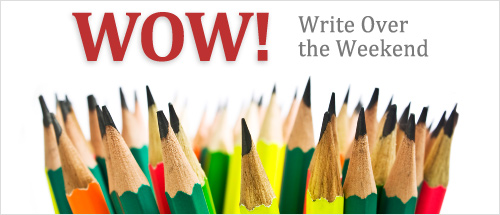 This week's WOW prompt is – 'Television Commercial'
Wherever the TV goes, so will the television commercial. Some are touching, some are funny, some are thought provoking and others are plain annoying. Use this creative writing prompt and blog about what you think or feel when we say 'Television Commercial'. It could be a memory of a commercial watched in childhood,or a commercial that made you think, or even a fiction story with the phrase 'Television Commercial'.
Remember, you have time only till Sunday midnight to submit your blog posts and have a chance to get the WOW badge!
Include this code:
This post is a part of Write Over the Weekend, an initiative for Indian Bloggers by BlogAdda.
Good news! There is now an easier way to submit your WOW entries, so just click on the submission link below for your WOW entry to be considered valid.

Every weekend, we give creative writing prompts for you to write blog posts on! Hope you enjoy our creative writing inspiration for this week. 🙂
All those who are featured in WOW can now flaunt the WOW badge on your blog. Download your badge now!