When you think of giving a makeover to your house, a number of factors pop up in your mind. What is the theme that you should choose, will it match the choice of your family members, will you REALLY want to live in it FOREVER (till you seriously think of redoing the house all over again), etc. Wouldn't it be great if you could sit with your family, evaluate all available options and then get a chosen theme implemented?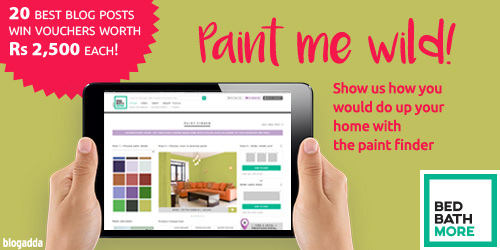 Giving a makeover to your house can be a lot of fun with Bed Bath More paints. The #PaintFinder feature allows you to choose a color and create a theme. You can even create your own theme and see a preview in a virtual room. This will save you time and help you make a collective choice with your family. So what theme will it be? Grecian or Retro? Dusky or Ethnic? Go wild with paint!
Bed Bath and More in association with Blogadda is entering your house with #PaintFinder activity.
Choose a theme from the Bed Bath & More website or create your own.
Use the #PaintFinder & visualize the makeover. Take at least 2 snapshots & use them in your blog post.
Blog about why you chose that particular theme and how does it reflect your personality & the theme of your house.
Prizes
The 20 best blog posts will get Vouchers worth Rs. 2500 each!
Click on the button below to submit your entry!
Click To Submit!
Mandates for the activity
The word limit for every blog post is a minimum of 300 words. Take snapshots of the #PaintFinder tool.
Please include the line, "I am participating in the #PaintFinder activity in Association with BlogAdda & Bed Bath & More"
Only blog posts submitted through this form will be considered valid.
The last date for submission of this blog post is midnight, 27th September, 2015.
One blogger can write a maximum of 2 blog posts for this activity.
So select your dream theme, and blog away!