Have you ever thought about how you met someone for the first time? And how it has turned out for you now? They say when you connect with another person you usually connect with the universe. Because, every human being bears the universe within themselves. Now that's a bit heavy, but it is true we all connect differently with everyone. This makes our lives more interesting as we pass by. So this weekend, tell us what would a simple hello lead to? drop in an awesome blog post loaded with creativity.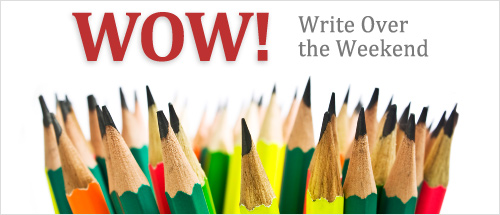 This week's WOW prompt is – 'A simple hello can lead to…'
It could directly lead to a goodbye or open some other doors you never even knew exists. Nevertheless, all connections start with a hello! Show us your fantastic flair to write by framing a story around this prompt.
Get, set, blog!
Remember, you have time only till Sunday midnight to submit your blog posts and have a chance to get the WOW badge!
Include this code:
This post is a part of Write Over the Weekend, an initiative for Indian Bloggers by BlogAdda.
Good news! There is now an easier way to submit your WOW entries, so just click on the submission link below for your WOW entry to be considered valid.

Every weekend, we give creative writing prompts for you to write blog posts on! Hope you enjoy our creative writing inspiration for this week. 🙂
All those who are featured in WOW can now flaunt the WOW badge on your blog. Download your badge now!