Freshness is the fuel for life. And what better way to add freshness to your life than with some music and dance? In this case, it was Allu Arjun on the floor grooving to Anushka Manchanda's voice both syncing magically for Colgate's latest track Taazgi Ka Dhamaka. We asked our bloggers to blog about how their life would get energized when Allu Arjun's sensational moves and Anushka Manchanda's magical voice came together for the Colgate #MaxFreshMove contest.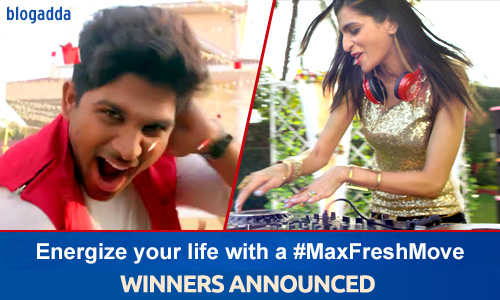 We received some of the coolest compilations and sincerely thank our bloggers for the same. It is time to make the winner announcement for Colgate #MaxFreshMove contest!
Winner of the 1st prize is Ranjini.S who gets a Flipkart voucher of Rs. 10,000.
The 15 best bloggers who win Flipkart vouchers worth Rs.1,000 are as mentioned below:
Abhishek Sharma
Congratulations to all the energizing bloggers.
We await your presence at the grand blogger awards and conference on the 20th of September. Book your tickets and nominate your blog for WIN '15. It cannot get better than this.