Imagination is like a muscle. I found out that the more I wrote, the bigger it got. – Philip José Farmer
This week's creative writing prompt is interesting as everyone who blogs will relate to it. There's always a writer hidden inside you who wants an outlet, be it in form of poems, photos, travelogues etc. This week we hope the writer in you enjoys our latest WOW prompt to the fullest! Also, nominate your blog for WIN15! And if you've already done so, then book your tickets for WIN15 here. We can't wait to see you and spend a day with our talented bloggers!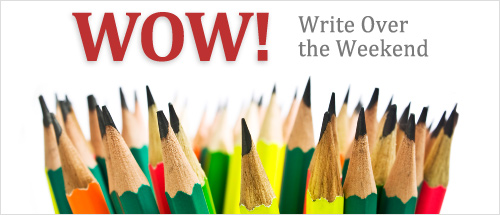 This weekend your post should include 'A Writer's Wildest Dream Come True'
Write a post containing the WOW prompt, and don't forget to make it interesting. It could be anything that is associated with the dreams of a writer and we're all ears, eyes rather, to see what you come up with. Surround it with creativity and loads of imaginative ideas. It could vary from winning the Booker Prize to receiving free stationery, we don't know! We're too excited to see your posts.
Get, set, blog!
Remember, you have time only till Sunday midnight to submit your blog posts and have a chance to get the WOW badge!
Include this code:
This post is a part of Write Over the Weekend, an initiative for Indian Bloggers by BlogAdda.
Good news! There is now an easier way to submit your WOW entries, so just click on the submission link below for your WOW entry to be considered valid.

Every weekend, we give creative writing prompts for you to write blog posts on! Hope you enjoy our creative writing inspiration for this week.
All those who are featured in WOW can now flaunt the WOW badge on your blog. Download your badge now!