College life is little about academic scores and more about exploring life unfolding at its best.  In other words college is an excuse to seek those dimensions that were hidden during the disciplined school lectures.  Festember is another word for that excuse to finding yourself. It is time you come alive with Festember.
A cultural fest by National Institute of Technology, Festember offers the engineering students 3 nights and 4 days of unmatched fun, music, food, events, and activities to unlearn the math equations in the festive month of September. Born in the year of 1975, the fest is hallmark and a storehouse of creative endeavors that include workshops, dance, live concerts and much more. This year the fest aims to offer you timeless experiences from 24th – 27th September at the NIT Trichy.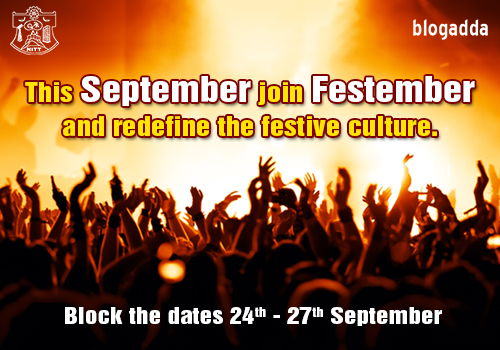 NIT in partnership with BlogAdda is giving away passes to the bloggers who want to attend this cultural delight. Candice Redding, Benny Dayal, Vishal-Shekhar, Salim-Sulaiman, Shakthishree Gopalan, Agam, Javed Ali, Suraj Jagan, and so many more make the nights a starry one quite literally. The enthusiasm of the crowd has only been increasing with each passing year making the heavy weights even heavier. An extravaganza for those who are rooted to the Indian music, the fest is a treat for Carnatic music loyals with the presence of Punya Srinivas and Karthik Iyer and Metal Carnatic Music's crowns like Agam and Avial. This is what makes Festember a universal invite and a must visit for everyone.
Festember is also a fest to explore and sharpen your skills and get recognized as well. The fest is a dome to creative activities like Parkur, Glass bowling, Frisbee and the traditional pottery too. The attendees will also twist to groovy music distinctively served for singles and couples. If you would like to pull that intelligent string of being an engineering stud, then you can look forward to literary events, photography contests, film making contests and quizzes.
Festember is one of the most sort after fests that sets high standards of acknowledging the attendees and the participants with valuable prizes and gifts that one can look forward to. One can never get the Festember vibe out of the self after boarding the plane. It is means everything festive for everyone.
Website: Festember 15
Time: 9- 10 pm
Address:
Tanjore Main Road,
National Highway 67,
Near BHEL Trichy,
Tiruchirappalli,
Tamil Nadu 620015
0431 250 0370