Democracy is interesting! Isn't it? The power to vote gets you to win your favorites. The aam aadmi knows it. To see your choices go alive is nothing less an achievement. It quite dint change here at BlogAdda, while you chose to blog about #CrashThePepsiIPL contest and cote for your best ads. Your chosen ads have made it to the TV screens and we have your reasons for voting them the best. Now it's the time to crash into the winners.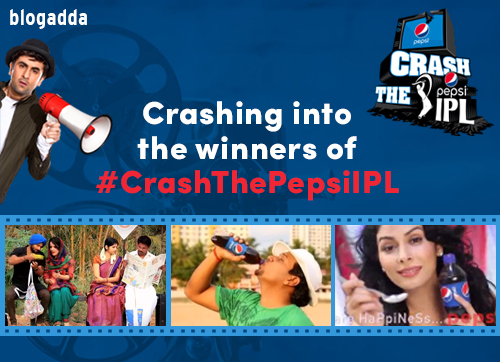 Thank you for participating in #CrashThePepsiIPL contest. We are about to announce the winners for #CrashThePepsiIPL contest. Your way to fame and glory is a few seconds away.
Phase 1 
Winner: Meera Nusrat who wins a voucher worth Rs. 20,000!
The list of 10 next best bloggers who win vouchers of Rs. 1000 each is as below
1. Merlin Thomas
2. Prerna Sinha
3. Jhilmil D Saha
4. Neena K
5. Vandana Choudhary
6. Archita Sinha
7. Maria Antonysamy
8. Nandini Deka
9. Sayantani Ghosh Dastidar
10. Richard Fernandes
---
Phase 2 
Winner: Jhilmil D Saha who wins a voucher worth Rs. 30,000!
The list of 20 best bloggers for two weeks who win voucher of Rs. 1000 each is as below
1. Partha Sadhukhan
2. Maria Antonysamy
3. Sonia Kundra Singh
4. Tennyson Thomas
5. Simran Bansal
6. Preeti Chauhan
7. Shivani Shourie
8. Jhilmil D Saha
9. Katie Nathan
10. Sayantan Chatterjee
11. Sahitii Rajshree
12. Saranya Gopinath
13. Sarath Babu S
14. Oindrila De
15. Garima Jain
16. Riann
17. Vyomimalik
18. Charu
19. Amar Naik
20. Karthik Murali
---
Phase 3
The list of 10 best bloggers for two weeks who win voucher of Rs. 1000 each is as below
1. Infantina Thanga Nivetha
2. Sarath Babu S
3. Jhilmil D Saha
4. Preeti Chauhan
5. Dharma Singh
6. Romila
7. Depanjan Chowdhury 
8. Alok Seth 
9. Anand Kumar 
10. Oindrila De 
Would you like to grab a Pepsi for this announcement? Once you are done drinking, we have more opportunities for you to win assured vouchers and BIG prizes. Check out http://littlemoments.blogadda.com