Do you remember those early days of your life when your skin attracted lots of people to cuddle you? Times when you were surrounded by your mom who constantly made sure that there is no harm done to your skin. As a baby, you instantly received attention from all over. When it comes to a baby's skin, you are likely to remain extra careful. Now you can experience these special moments of love, care and nourishment with Dabur Baby Massage Oil #FirstLove activity. Wouldn't you want to nourish a baby's skin naturally while you are protecting it?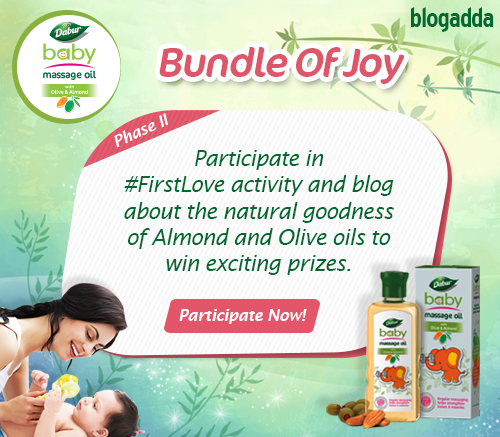 We all understand the harmful effects that products like paraffin can do to a new born baby's skin. The reason this oil, enriched with goodness of Olive & Almond oils, helps in faster bone formation and muscle building.
Participate in Dabur Baby Massage Oil #FirstLove activity and blog about how the goodness in natural oils does wonders for the baby's skin, bone and muscle development. Write about the benefits that a baby's skin has because of the natural ingredients in the oil. Also talk about how these oils keep the baby's skin away from artificial colors and chemicals.
Prizes:
10 best blog posts will win voucher of Rs. 1000 each.
Every valid entry wins a voucher of Rs. 250.
Click on the link below to submit your entry.
Click To Submit!
Mandates for the activity

– The word limit for each blog post is a minimum of 400 words.
– Please include the line, "I am participating in the #FirstLove activity at BlogAdda in association with Dabur".
– Only a blog post submitted through this form will be considered a valid entry.
– The last date of submission for this blog post is 12th July 2015.
– Every participant can submit a maximum of 2 entries.
Spread the love and nourishment for a baby like never before. Assured vouchers for every valid entry. Winners have more in store.