Each one of us have our own definitions of the influences our city has on us. But have you ever see a city as you would make it? No we are not asking for an essay. We are asking you to be as normal as you can and define a city that includes everything in it to never let you go anywhere else.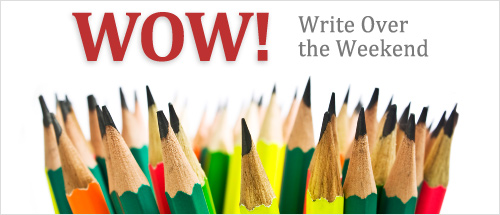 This week's WOW prompt is – 'MyCity by me'
So there are a lot of things in your city that make you proud and silently give you complaints too. Here is your chance to imagine a city that you will make you fall in love with it. Remember this is not a school project so take the charge and imagine a city that has a reflection of your personality.  Don't just think about it, write a great blog post about it and win a WOW badge for your creativity!
Get, set, blog!
Remember, you have time only till Sunday midnight to submit your blog posts and have a chance to get the WOW badge!
Include this code:
This post is a part of Write Over the Weekend, an initiative for Indian Bloggers by BlogAdda.
Good news! There is now an easier way to submit your WOW entries, so just click on the submission link below for your WOW entry to be considered valid.

Every weekend, we give creative writing prompts for you to write blog posts on! Hope you enjoy our creative writing inspiration for this week. 🙂
All those who are featured in WOW can now flaunt the WOW badge on your blog. Download your badge now!