Regardless of age, retirement is a thought that doesn't come to most people's minds, and even if it does, it gets pushed to the back of their mind. Consequently, most people don't think of retirement savings till they have more grey hair than they can count on their fingers.
But we know you to be smarter than that. We know you can plan for the future even if you can't predict it. We know you want to live a life of dignity and pleasure well into your sunset years.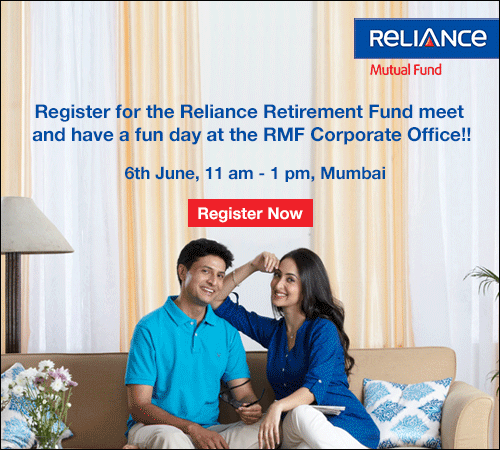 Reliance Capital Asset Management Ltd. introduces the 'Reliance Retirement Fund', a one stop Equity & Debt Oriented Retirement Solution which offers the dual benefits of 'Wealth Creation Scheme' and 'Income Generation Scheme', which you can choose from based on your needs.
RCAM and BlogAdda invite Mumbai bloggers to be a part of the Reliance Retirement Fund meet, where you will get a chance to meet and interact with Reliance (RCAM) officials who will give you the lowdown on the 'Reliance Retirement Fund' in an interesting meet.
If you are one of the people who likes to plan ahead and choose only the best from what is offered to you, take this opportunity to register for this event which holds a lot of promise!
Every shortlisted blogger who attends this meet and blogs about it will get an assured voucher worth Rs. 1000!
Details:
Date: 6th June, 2015
Time: 11 am to 1 pm
Venue: Reliance Corporate Office, India Bulls Centre, Senapati Bapat Marg, Saidham Nagar, Parel, Mumbai – 400012
Click on the button below to register!
Register Now!
There are limited slots available for this event, so register at the earliest to increase your chances of being present at the meet!