Blogging is technically an online activity, but the lines between virtual and real life have long blurred in the Indian blogosphere. Today, bloggers are friends on social media and off it, exchange notes on blogging and personal lives, and meet each other without the limitations of a computer screen. BlogAdda wishes to celebrate this aspect of blogging with the #YouMakeMeWIN activity, and this is your chance to honour a fellow blogger who has made an impact on you.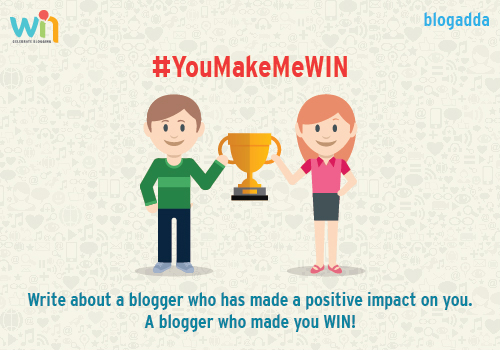 Blog for the #YouMakeMeWIN activity and tell us which Indian blogger has influenced you positively. WIN stands for Write, Inspire and Network. It could be a blogger whose writing has impressed you and pushed you to do better, a blogger who has inspired you to take up blogging or a blogger you've met and connected with.
Tag the blogger(s) that you are writing about and tell the world why you think they deserve to be nominated at WIN 15 and ask them to nominate their blog in any of the categories at WIN 15. Blogging is a way to express yourself, to feel a connection with the world. Getting to know wonderful new people and interacting with them is a fringe benefit that just sweetens the blogging deal. If you're proud to be a part of the blogging community, take this opportunity to appreciate a fellow blogger for the work they are doing by writing for #YouMakeMeWIN! Click on the button below to submit your entry.
Click To Submit!
Instructions to follow –
The word limit for the blog post is a minimum of 400 words.
Every participant can submit a maximum of 5 entries.
Include these lines "I'm blogging for #YouMakeMeWIN to honour a blogger who has influenced me and deserves to be nominated at WIN15. "
Tag the blogger(s) who you are writing about for #YouMakeMeWIN.
Go ahead, nominate yourself for #WIN15, and also encourage deserving bloggers to nominate themselves and get the recognition they deserve.