Moments of today become memories of tomorrow. We try with all our might to preserve these memories before they are taken away by the passage of time. And when these memories are related to motherhood, they become all the more special and cherished. So would you like to share these memories with us?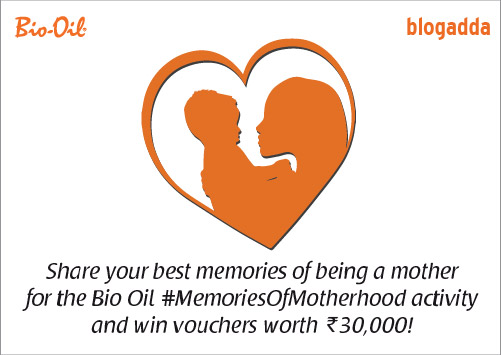 Bio Oil in association with BlogAdda presents the #MemoriesOfMotherhood activity, where you can take a trip down the memory lane of motherhood.
Mothers, blog about the memories of your motherhood that you would like to preserve forever. You could be a new mommy seeing her child smiling and gurgling for the first time, or the mother of grown up children who still remembers every big and small milestone of her child. If it is still fresh in your mind, you can blog about it!
Prizes:
30 best blogs will get vouchers worth Rs. 1000 each.
Click on the button below to submit your entry!
Click To Submit!
Bio Oil has been one of the most trusted product for women, especially expectant mothers all over the world since 2002. They conducted a Facebook activity recently to help moms treasure their greatest memories by making a 'Yummy Mummy' calendar with some of the best user-submitted family portraits. They are also launching the Bio Oil app which will let you create your own memories by letting you make your own calendar!
Instructions to follow –
The word limit for the blog post is a minimum of 400 words.
This activity is open only for female bloggers.
Every participant can submit a maximum of 5 entries.
Include these lines "I am sharing my #MemoriesOfMotherhood with Bio Oil and BlogAdda. This Mother's Day check out the Yummy Mummy calendar and  make a similar calendar of your own using the Bio Oil App."
The deadline for this activity is midnight 17th May, 2015.
So relive your wonderful journey as a mother by participating in the #MemoriesOfMotherhood activity! Not only will you won some great prizes, we're sure it will bring a big smile to your lips too!