'Mom, where's my book?'
'Mom, have you packed my lunchbox yet?'
'Mom I'll be home late, I have to attend a party after work!'
Sigh…the kind of stress and pressure a mom bears is truly superhuman. We're sure mommyhood comes with a secret mantra that helps moms deal with everyone's demands with a smiling face. She is stressed but never shows it on her face.  Would you like to destress your mom this Mother's day?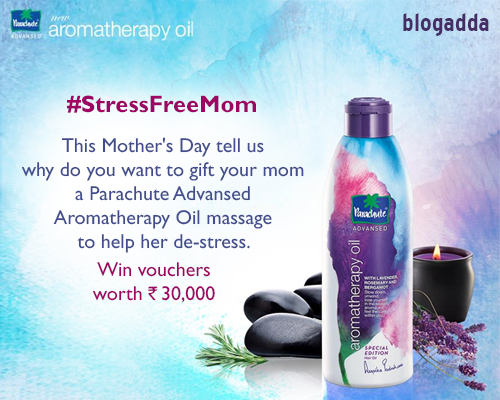 Parachute Advansed Aromatherapy Oil and BlogAdda present the #StressFreeMom activity this Mother's Day. Blog about the reasons why you would like to destress your mom by giving her a Parachute Advansed Aromatherapy oil massage.
Mothers are worriers, and on any given day, there are a million reasons for a mom to be stressed out. It could be your studies, your job timings, you spending too much time on the Internet, or even the fact that you don't eat your meals on time and seem to have lost half a pound of weight! All of this is sure to stress them out. So tell us why do you want to destress your mom with a soothing aromatherapy massage.
Prizes:
The 30 best blog posts will win vouchers worth Rs. 1000 each!
Click on the link below to submit your entry!
Instructions to follow –
The word limit for the blog post is a minimum of 400 words.
Every participant can submit a maximum of 5 entries.
Include these lines "I'm blogging about why my mother needs to de-stress with a Parachute Advansed Aromatherapy Oil massage for the #StressFreeMom activity at BlogAdda."
The deadline for this activity is midnight 17th May, 2015.