Axis Bank and BlogAdda made banking fun in February with the 'Axis Acquaintance' event, and now this association is back to offer you another wonderful session where you will get to interact with Axis Bank officials and participate in some really great activities!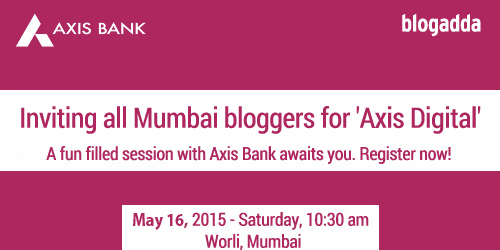 Mumbai bloggers, we invite you to the 'Axis Digital' event on 16th May, 2015. Axis Bank is committed to pushing the boundaries when it comes to offering new services to make banking easier for its consumers. This time around too, Axis Bank has come up with an amazing new service that you will be introduced to during the 'Axis Digital' event! We can't reveal too much, but the event promises to be a lot of fun with an interactive session and fun activities that will make you happy!
Details:
Event Date: 10:30 AM, 16th May 2015
Event Venue: Corporate Office, Axis Bank Limited, Bombay Dyeing Mills Compound, Pandurang Budhkar Marg, Worli, Mumbai – 400 025.
We guarantee that it will be a great way to spend your Saturday, so register now to be a part of the exciting Axis innovation!
Click on the button below to register!
Register Now!
Remember that there are limited seats for the 'Axis Digital' activity, so register at the earliest to ensure that you are part of the select few! We will get back to you with more details if you're shortlisted.  🙂