Most of us consider our hair our best feature. That is why a bad hair can ruin our day just as easily as well-behaved hair makes us feel on top of the world. We spend a lot of time and energy (even money) on our tresses, and admit it, every fallen hair that you see breaks your heart just a little.
P&G Salon Professional have introduced the revolutionary Nioxin technology in India, formulated specially to combat thinning hair. Nioxin and BlogAdda invite you to experience this revolutionary formula with the #NioxinNowInIndia activity.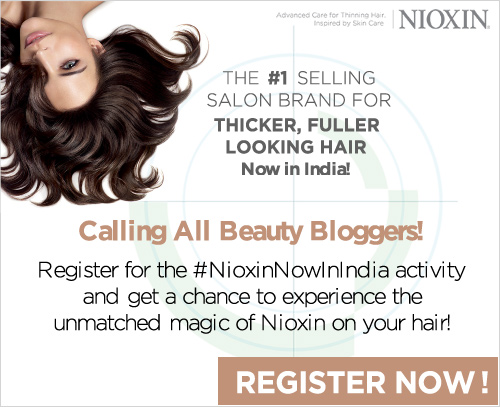 Nioxin is the leading brand in the US used to combat thinning hair with more than 20 years of research going into creating a range of products that have helped people with thinning hair gain thicker, fuller looking hair. Visit your nearest salon to know more about the product by clicking here.
Nioxin has now come to India and we're giving beauty bloggers a chance to experience the magical effect of Nioxin on your hair firsthand. Apply for the #NioxinNowInIndia activity and if you're shortlisted, you get to check out the Nioxin range of products in 2 ways –
1. Shortlisted bloggers will be invited to spend a day at a Wella Salon, where you will be given the Nioxin experience by experts according to your hair type. They will then go back and blog about this activity.
2. These bloggers will also get Nioxin products to use at home for 20 days and feel the difference that Nioxin makes to your hair. You can also get one of your loved ones to try out the product and share their experience in a blog post.
Beauty bloggers, this is a great opportunity to get your hands on a reputed product like Nioxin that has helped countless men and women regain their hair and confidence through their customized treatment systems.
Register for the #NioxinNowInIndia experience and we'll get back to you with more details if you're shortlisted. We have limited number of slots available, so register at the earliest to make it to the list before time runs out!
Click on the button below to register for#NioxinNowInIndia.
Click To Register!
Please note: This activity is open only for bloggers who reside in Mumbai, Delhi, Bangalore and Chennai.
Be a part of #NioxinNowInIndia and your hair will never be the same again!