Is your mind abuzz with a million dollar Idea? Are you facing a tough time giving it the right intervention? Do you want to navigate an ocean of opportunities for it to set sail?
Well, jump on board then. Introducing, Conquest – BITS Pilani's International Startup Conclave, in its eleventh edition, as it gets larger than life. Expert mentorship, media exposure, they have it all for you.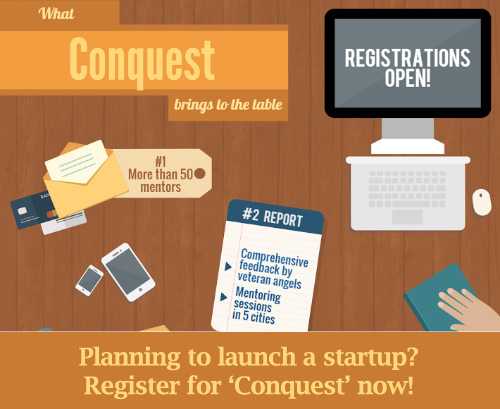 Here are a few more reasons as to why Conquest is the best thing to happen to startups:
-Conquest has long been considered as the 'Networking Paradise' of Entrepreneurs. They bring in who's who of the startup community under one roof.
Size doesn't matter, execution does! They gauge your progress over the months, till the fateful Finale!
-And yes! Conquest has plenty of cash to give away as seed money! Not to mention opportunities worth INR 10 Million, Cloud Computing, SEO, IP, Legal Support and much more!
About Conquest
Conquest is BITS Pilani's international startup conclave which aims at encouraging the spirit of entrepreneurship in India. Conquest is a perfect launchpad for every groundbreaking idea.​
It explores and caters every need of a startup – incubation opportunities, IP filing, expert mentoring and networking sessions with industry stalwarts, angel investors and leading venture capitalists. They have had some great success stories in the past, with Conquest finalists turning into India's best startups.
This year Conquest with DCB Bank as its Title sponsor aims at penetrating deeper into the Tier-II,III cities of India which will be the birthplace of the next startup revolution in the country. There will be a million dollar worth of Cash prizes, services being provided and extensive networking opportunities at Conquest this time.
So, if you have an idea or a startup, howsoever young, waiting to weigh anchor and set sail, register now on the Conquest website.
You can also find more information about Conquest here:
Facebook