Did you know that Bhakti Sharma is the world's youngest female swimmer to swim across all the 5 oceans? Or that Jadav Payeng single-handedly created a 1360-acre forest in Assam? If you think such inspiring individuals deserve to be recognized, then participate in the #WillOfSteel activity at BlogAdda!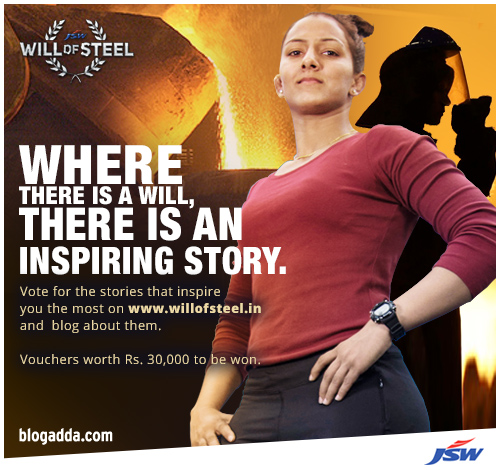 #WillOfSteel is an endeavour by JSW to honour the unsung heroes of India, people who have truly proven their mettle and have unbreakable determination. Be it in sports, health care, social service or even saving the environment. These are individuals whose willpower has changed the world.
JSW and BlogAdda invite you to help these individuals with a #WillOfSteel get the recognition they deserve. Here is what you have to do-
Log on to willofsteel.in
Vote for how many ever stories that you believe truly possess the #WillOfSteel.
Blog about the nominees who inspire you the most and let the world know why you think your choices deserve to be felicitated by JSW and encourage your readers to vote for them too!
They say every good turn deserves another, so your blog post will not just get these outstanding individuals recognized by JSW and the world, it will also win you prizes!
Prizes:
30 best blog posts will win vouchers worth Rs. 1000!
Instructions to follow:
The minimum word limit for each blog post is 400 words.
Each blogger can submit two entries for this activity.
The deadline for this activity is midnight 23rd April, 2015.
Please include the following line in your blog post "I'm voting for (nominee's name)'s #WillOfSteel and blogging on BlogAdda to help him/her get felicitated and eventually enabled by JSW.
Click on the button below to submit your entry.
So blog to help your favourite #WillOfSteel nominees reach their glorious destination and ask your readers to do the same!