The Pepsi IPL began on April 8th, and the whole of India is now divided by the jersey colour of their favorite teams. Apart from nail biting games of cricket, Pepsi IPL is about glamour, big brands, seeing and being seen. For the first time in the history of the game, Pepsi is giving fans a chance to #CrashThePepsiIPL –  make video ads that will be seen by the whole country during the Pepsi IPL matches.
Now, Pepsi and BlogAdda are giving you an opportunity to #CrashThePepsiIPL in your own way by blogging about video ads!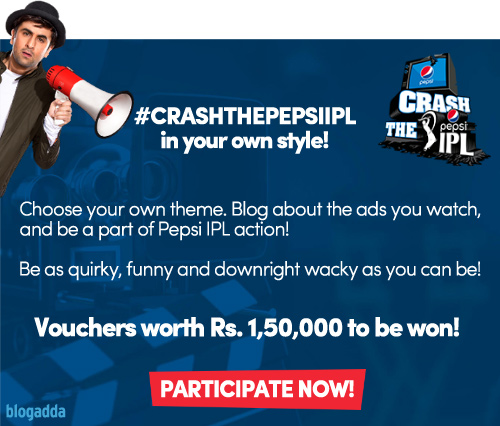 For the first time in India, bloggers will choose their own theme and blog about it. All you have to do is blog about your thoughts, experiences or ideas about video ads, no holds barred!
But yes, we are looking for the quirkiest, funniest and CRAZIEST blog posts on the topic, so throw your inhibitions out of the window and get blogging!
Phase 1
Love 'em or hate 'em, you can't ignore ads. They are everywhere – from TV to the Web, and come in all shapes and sizes. Which is a good thing, because more the ads, the more you can blog about them. Tell us your favourites or your most hated ones, brag about which ad you could have made better and even talk about all the celebrities endorsing everything from toothpaste to luxury sedans!
To make your work a little easier for you, we have rustled up a list of themes that you can write on, so click here to find some inspiration for your blog post. But make a note on your mental post-it, your blog post has to be quirky enough to catch the judges' eye!
PRIZES:
First Prize – Vouchers worth Rs. 20,000!
The 10 next best blog posts will win vouchers worth Rs. 1000.
Is your brain fizzing like a shaken bottle of Pepsi, raring to hammer away a unique blog post? Take a look at the instructions below and then click on the button below to submit your blog post.
Instructions to follow:
1. The minimum word limit for each blog post is 400 words.
2. Each blogger can submit two entries per phase of this activity.
3. The deadline for Phase 1 of this activity is midnight 19th April, 2015.
4. Please include the following line in your blog post "I am joining in on all the Pepsi IPL action in my own style with the #CrashThePepsiIPL activity at BlogAdda."
5. Also include the following lines in your blog post to encourage your readers to make the most of this opportunity and get famous! "This Pepsi IPL, it's not just about cricket. It's time to crash with your own created ad! Make your own Pepsi ad & if it's chosen, it could play on TV during Pepsi IPL! And hey, it doesn't end here… Even if you're chosen as a finalist, you stand a chance of winning a prize amount of Rs.1 lakh! So what are you waiting for guys?"
And while we are on the subject of ads, it would be great if you check out the ads that people have made for Pepsi IPL here. Who knows, one of these ads could be the one replacing the official Pepsi ad on TV during the Pepsi IPL.
The fun obviously doesn't end here, because it spills over to Phase 2 and 3 of #CrashThePepsiIPL too!
In Phase 2, you have to take a look at the creative and wacky ads that people have made for #CrashThePepsiIPL and blog about them. Praise them, critique them, give us your list of hits and misses or the most LOLworthy – your choice 😉 Head over here to participate in Phase 2 of #CrashThePepsiIPL and get a chance to win the Grand Prize worth Rs. 30,000!
Coming Soon!
In Phase 3, we take on the crazy subject of 'voting' in our country. From reality shows to our ministers, we vote for everything under the sun. Write a wacky blog post about voting and win exciting prizes!
P.S. Phase 3 hasn't started yet, we will update you on that soon. Till then, wear your helmets and #CrashThePepsiIPL with your blog in Phase 1 and Phase 2!