Pepsi IPL has begun and the next few weeks promise some great cricketing action. These few weeks are going to be particularly exciting for bloggers, because this is the time when the #CrashThePepsiIPL activity is taking place in full swing!
After kicking off the #CrashThePepsiIPL innings with a sixer in the form of Phase 1, Pepsi and BlogAdda now take the partnership forward with Phase 2.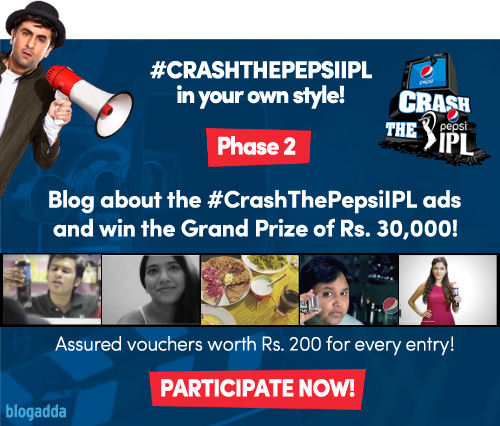 Welcome to Phase 2. For this Phase, let us take you to the gallery where the ads created by enthusiasts for #CrashThePepsiIPL are displayed. Click here to enter the gallery, feel free to take a look at some (or all) the ads that people have created. After you see what these creative people have been up to, go back and blog about these ads. Yes, it's that simple!
A heavyweight jury consisting of Ranbir Kapoor, Gautham Menon, Anuja Chauhan, Pritam and Ruchira Jaitly, Senior Director Marketing, PEPSICO INDIA will decide which ads will replace the official Pepsi ads during the matches, but what we want is your thoughts on these ads.
Tell us which ads are your favourites, which ones surprised you, which could have been made better, an actor in the ad that you liked. You can even make a list of the funniest, cutest and most intelligent ads. Blog about which ads you added to your 'Hitlist' and why. There is a sea of ads in the #CrashThePepsiIPL that you can turn into a sea of opportunities for yourself!
Since it's Phase 2, we're kicking the prizes into higher gear too.
Prizes:
1. The best blog post will get a voucher worth Rs. 30,000!
2. The 10 next best blog posts EVERY WEEK will win vouchers worth Rs. 1000 each
And that's not all. Every valid blog post will get assured vouchers worth Rs. 200!
So head over to the #CrashThePepsiIPL gallery at the earliest, because there are a lot of entertaining ads there just waiting to become an inspiration for a blog post!
Instructions to follow:
1. The minimum word limit for each blog post is 400 words.
2. Each blogger can submit two entries per phase of this activity.
3. The deadline for Phase 2 of this activity is midnight 26th April, 2015.
4. Please include the following line in your blog post "Check out the #CrashThePepsiIPL videos & participate in the activity at BlogAdda"
5. Please embed the video ads that you are writing about in your post.
Click on the button below to submit your blog post – 
So head over to the #CrashThePepsiIPL gallery at the earliest and blog about the very interesting ads there before the best (or worst) ads get snapped up!
P.S. – Don't worry, you can still participate in Phase 1 because the deadline for it is 19th April, 2015!