The recently concluded India Today #Conclave15 had some of the best people in every business field questions about their lives, and tell people how they forged a change in their lives. These people reinvented and remade the areas in which they worked, inspiring many others to do the same. Speaking of inspiration, we saw some brilliant, inspired posts during 'The World Remade' activity. The top 5 bloggers for 'The World Remade' attended the prestigious India Today #Conclave15, and now it's time to announce the rest of the winners!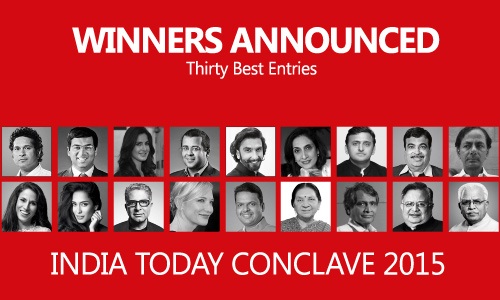 Without further ado, here are the 30 bloggers who blew us away with their visions of a new world, made in their own unique way-
1. Mahesh Ramani for the post The Day After Tomorrow
2. Roshan R for the post What if you gave me a chance to be God?
3. Dr. Raksha Bhat for the post World Is But A Wonder Island
4. Kishore Kumar Muthu for the post If I were the creator!
5. Arvind Passey for the post The artist within
6. Sunaina Sharma for the post The World will be Remade….
7. John Corlos for the post Journey To The Land Of No Mobile Phones
8. Aditya Jha for the post The world – as per my creation
9. Esha Chakraborty for the post The world Remade
10. Rinzu Susan Rajan for the post Building a Gender Equal World
11. Shilpi Dutta for the post The world re-made
12. M V Teja Chilamakuri for the post A shot at being Vishvakarman
13. Vijay Kumar Sharma for the post A Slightly Tweaked Version of Human Beings
14. Amreen B. Shaikh for the post A new world
15. Gyanban for the post The World Remade 2.0
16. Ragini Puri for the post Where the Mind Would Indeed Be Without Fear
17. Anita for the post Order! Order! World is Remade!
18. Piyush Bhatnagar for the post My Recipe of a New World
19. Meenakshi Somasundaram for the post The World I Make
20. T Verma for the post The World Remade
21. Bavneet Singh for the post My World; My Rules
22. Roy for the post The World Remade | Recipe
23. Shwetabh Mathur for the post The World "Remade" – #Conclave15
24. Keyur Seta for the post Instead of remaking films, let's remake the world!
25. Anirudh Rao for the post The world, as I(would like to) see it
26. Tennyson Thomas for the post That World Remade
27. Kamal Upadhyay for the post संसार-पुनर्निर्माण
28. Shoma Abhyankar for the post A World Remade…
29. Khushboo for the post Remaking the world
30. Swati Bassi for the post The World Remade – Part II
Congratulations to all the Creators who have won vouchers worth Rs. 1000! Thanks for remaking the World your way and making this activity a huge success.  🙂
Click here to refresh your memory about the Top 5 winners who attended the India Today #Conclave15.