Not everyone who lets go of an opportunity gets a chance to revisit that opportunity and take advantage of it. Very rarely does life give you a #SecondChance, and lucky are the ones who get to grab it. Well, when Max Life Insurance and BlogAdda announced the #SecondChance activity, bloggers grabbed the opportunity the first time around and blogged about it, and now it is time to announce the winners!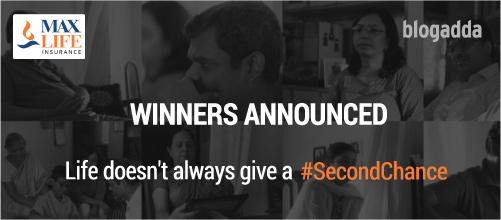 It is highly improbable that there is someone who doesn't regret anything in his or her life, and that is why the #SecondChance activity brought out a lot of stories from bloggers – stories about the things that they had been putting off for the future and would do right now if given a chance. We got the chance to read a lot of great posts, and here are the winners of the #SecondChance activity –
1. Kalyan Panja for his post Things To Do Before I Die
2. Heena Shah-Dhedhi for her post Give Yourself A Second Chance
3. Alok Singhal for his post Right here, Right now
4. Ekta Khetan for her post If Life Gives a #SecondChance
5. Aditi Mathur for her post Chances, Chances
6. Swathi Shenoy for her post A Backpack of Regrets!
7. Sapna Bansal for her post #SecondChance
8. Ganga Bharani for her post My second chance-I am not missing this time
9. Stephen Ak for his post Do it now, Don't postpone!
10. Prasanna Rao for her post Grab The Second Chance That Life Throws At You
11. Avantika Chitlangia for her post What I would do if life gave me a #SecondChance
12. Era for her post What if tomorrow never comes?
13. Felizry for his post Now is the time to do it, #SecondChance – Maxlife
14. Soumya Prasad for her post No Second Chance
15. Sushmita Malakar for her post #SecondChance
16. Purujeet Parida for his post Things I would do with a TimeTurner
17. Nimi K Vashi for her post Three Things I Wish To Do Right Now
18. Saranya N for her post Second Chance
19. Nandini Deka for her post MaxLife Insurance The Second Chance
20. Kena Shree for her post Wish me a wish!
Congratulations to all the winners of this activity, we'll now give you a chance to revel in your victory and your vouchers worth Rs. 1000! Thank you all for participating in the activity.  🙂