Holi is the festival of colour, and what's life without a little colour? In the absence of colour, life starts looking bleak, dull and not much worth living. On the other hand, a life full of colour sounds exciting and something to look forward to, right? That's what this week's WOW blog writing prompt is all about!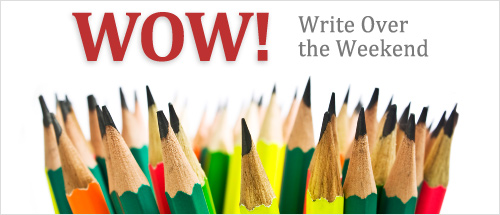 This week's WOW prompt is three words – "A Life Full Of Colour".
The fervour and anticipation for Holi is all around, and everyone is getting ready for a day full of joy and merriment. We at BlogAdda thought that we should get into the mood for Holi and add some colour in your life, so we're giving you a creative blog writing prompt about 'A Life Full Of Colour'.
Get writing about the above blog prompt, and we'll wait for your 'colourful' blog posts to add the fun in our lives!
Remember, you have time only till Sunday midnight to submit your blog posts and have a chance to get the WOW badge!
Include this code:
This post is a part of Write Over the Weekend, an initiative for Indian Bloggers by BlogAdda.
Good news! There is now an easier way to submit your WOW entries, so just click on the submission link below for your WOW entry to be considered valid.

Every weekend, we give creative writing prompts for you to write blog posts on! Hope you enjoy our creative writing inspiration for this week. 🙂
All those who are featured in WOW can now flaunt the WOW badge on your blog. Download your badge now!
Fashion and beauty bloggers! Register for the #LakmeSchoolOfStyle activity, blog about your favourite videos from the #LakmeSchoolOfStyle fashion online magazine and get assured vouchers! Click here for details.