Indhuja Pillai is a young blogger currently working in Bangalore, but you might know her as the person who set up marry.indhuja.com, a site where she looked for potential suitors for herself (in a tongue in cheek manner, of course), after her parents created a profile for her on a matrimonial site. Her one page site too off like nobody's business, and soon went viral, with the youngsters-hounded-by-their-parents-to-get-married crowd identifying with Indhuja and her problem. Indhuja has now been featured by leading newspapers and news channels for her 'hatke' response to marriage proposals. BlogAdda caught up with Indhuja for an interview about the comet that lit up her her blogging career – marry.indhuja.com and other things.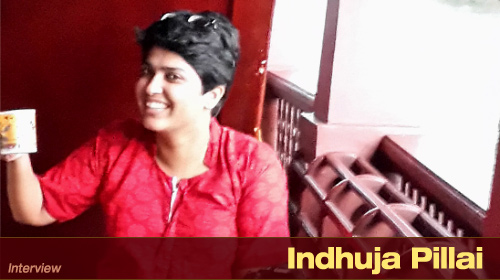 Q. When and why did you start blogging? What are the subjects that you generally blog about?
I've been blogging since 2010. I used to write about technology and movies back then. Now I've upgraded the blog and I write about life, mostly, and movie reviews and travel stories, rarely.
Q. What was the thought behind marry.indhuja.com? Was it an impulsive decision or the result of pent up feelings?
The thought was very spontaneous, only to let my parents know the real me. For example, they had mentioned 'software engineer' as my occupation in the matrimony website's profile, whereas I am a startup lover.
Q. Did you imagine that your website would take off as it did?
Definitely not. Have been expecting loads of criticism, but I have ended up gaining a lot of respect and loads of love.
Q. What are the responses that you have gotten from people who saw the site? Any interesting bearded suitors came your way? 🙂
Responses have been overwhelming. Did get quite a few suitors, some bearded and some with 'growing a beard' on their to-do list! I'd have done something about them if I were really looking though 🙂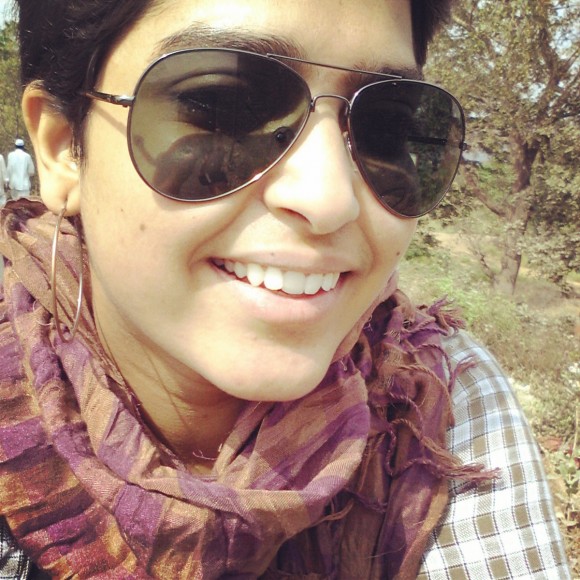 Q. What has been the best takeaway till now from the new site?
It's now evident (now that they call it viral) that people are able to relate to this. People like gutsy, in a good way. They like confident women, and by confident I mean confidence and not bossy. And most men and women are struggling to postpone marriage too.
Q. You have been blogging for some time and have spoken about misogamy earlier. What was the inspiration behind expressing yourself through a website rather than your regular blog?
I have been blogging about misogamy and misogyny (rarely) as well. The website was created on a serious note to help my parents forward my profile to all the mainstream men who approach(ed) them. A blog link would be much longer and I thought a website (or a subdomain) made much sense. And since I had a subdomain earlier, Marry.indhuja.com wasn't technically difficult to put up either.
Q. What do you plan to do with the site after a while? Do you think young people who are tired of 'When are you getting married' question will take a cue from you?
I want it to remain, for a great deal of time. I wish they do take a cue, not from me, but from the way they see the problem, any problem.
Q. Tell us something about yourself and your family.
I'm a Tamilian, from Salem (a small town in TN). I'm a loner and I like going places and a fan of the startup environment. I work in one myself – Tripigator. Not a phone person, or a TV person. I write my heart out on my blog. Which is and has been, by far, the best way for people to get to know me. Dad's into real estate business and mom's a home maker. We love each other too much and (only) have each other. A simple, self-sufficient, nuclear family.
Q. What are your interests apart from working and blogging? What do you do in your free time?
I roam freely, rarely treat myself with good food and learn photography.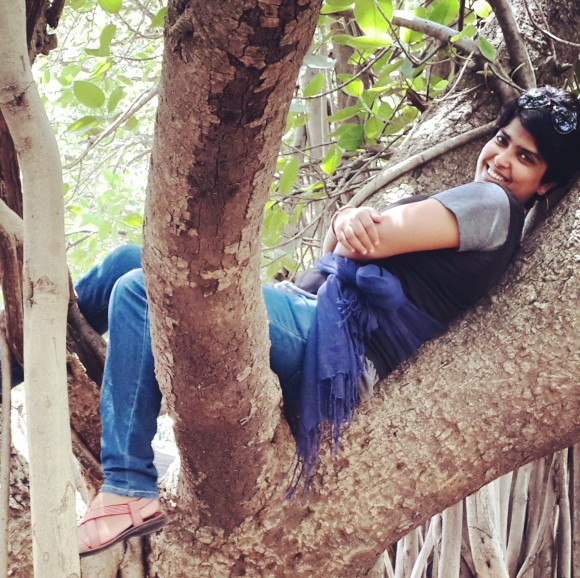 Q. You have described yourself as 'different' many a times in your blog posts. In what ways do you think you are not like other youngsters (or girls) your age?
For starters, I've got no friends and I'm used to it already. I don't spend time on the phone, calls are only from parents and I Whatsapp mostly only with dad. Not a TV person, hate drama and masala. I don't cry over hairfall, am truly free of material pleasures and people, not very opinionated, and an ENTP personality type, but most of the time treated as alien.
Q. People who don't know you might get the feeling that you're quite the cynic when it comes to love and friendship. What do you actually think of love, friendship and socializing?
Love gives you a feeling that nothing else can. Feeling loved and loving someone with all your heart can sometimes be the best feeling and an awesome part of your life itself. And not everyone gets to experience that, at least not all the time. Friendship looks amazing to me, only from the outside. Friendship between men has always influenced me positively. I believe that women can't be best buds as men are. It's weird with women and it never has worked out with me. With neither, frankly.
I'm bad at making friends with strangers and it's only the FoF (friends of friends or references with PoCs/people I've already met) that work. But I socialize just like any normal human would; I'd often be the first to strike a conversation, with, let's say, a group of people I lunch with.
Q. You have been quite regular in blogging. What are the occasions when you blog? Do you plan your posts or are they impromptu?
Recently, yes. I'm trying to blog regularly. And no I don't plan the posts.
Q. What are your favourite type of posts to write? Which do you think is your best article till now?
I love writing on life and philosophy. I like the Making Sense post first, Love & Marriage next.
Q. Which other blogs do you follow? Any bloggers you take inspiration from?
Don't follow any. Not a big reader (of personal blogs or books).
Q. Most bloggers dream of the kind of traffic that your website and blog have gotten. What do you plan to do with your newfound virtual fame?
Have never been a fan of fame. I'm just glad people like it and it sure has solved the purpose. But I'm really overwhelmed at the response I have and am getting.
The only thing I'm glad about is the increased amount of people who like what I write. They resonate and relate with it. I am only planning to become a better blogger for them and a better writer for myself. That's something to start with.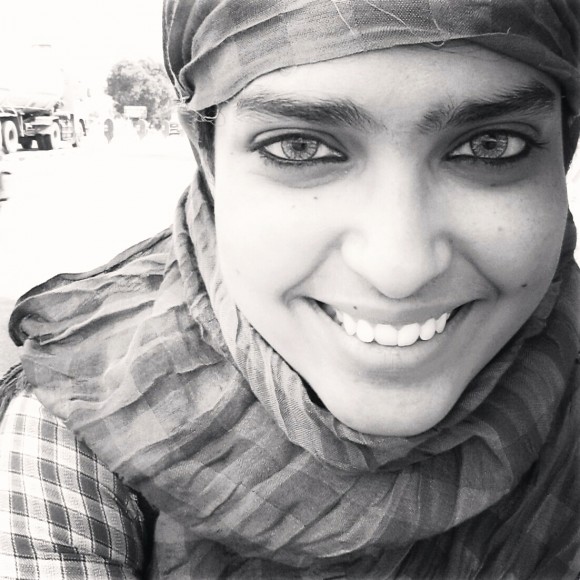 Q. What are your future plans regarding your blog and career? You like photography; any plans to pursue it further?
As I had mentioned, I'd definitely love to write more often and learn/practice quality writing too. I do like to learn photography, have been doing it since November '14. Will definitely continue learning, but I have no plans of become a full-time photographer.
Q. What advice would you give someone who wants to start blogging?
Start a blog right away and start writing. You'll never know when you'll fall in love with your own writing. And when you do, it's a good feeling that encourages you to keep writing better. You will end up focussing on something soon and when people start liking what you write, there is no stopping you.
Q.Where do you see yourself 5 years from now? (Quite the cliche, but we would love to know)
I don't think very futuristically, ever since I realized it doesn't work with me. I only see myself as 'truly free', like I already am, 5 years, 10 years, 40 years from now.
Quick Questions:
My idea of a perfect day is… Breakfast at Vohuman's Cafe, Pune. Lunch at Aga Khan palace, Pune. Dinner at RamKrishna, Pune. Or a random bus trip around the city (Bengaluru or Pune or any city).
The most important things in my life are… Living life and not surviving, being euphoric and not just happy, fighting odds and being yourself; even if it means being alone.
What makes me happy… Me.
What makes me angry… Arguments over unimportant things piss me off, anger is not a part of me.
My earliest memory is… I remember lying on my stomach with mom and learning the alphabets and playing the waiter, with dad.
My philosophy of life is… The below image

If my life had to be based on a movie, it would be… Abhiyum Naanum (Tamil)- first half, and Hasee toh Phasee (Hindi)- minus the climax.
My 3 am phone buddy is… No one.
Blogging for me is… Like talking to myself.
Getting to know Indhuja better as a blogger and a person was quite interesting for BlogAdda. We hope you liked the interview, too! Leave your thoughts for the interview in the comments section below!