The blogosphere in India is not just a place for random musings, mutterings and ramblings (no offence to those who indulge in these), but a very real place of forming and expressing opinions. Whenever there is a newsworthy development in the country or even outside, the Indian blogging community is on quick on the uptake, taking to their blog to share their thoughts.
BlogAdda loves the dynamic nature of this many headed beast, which is why we are starting the weekly 'Buzzing Blogosphere', a place where you can come to when you want to see all the different sides to a conversation surrounding a current topic. It will be a place to discover some interesting thoughts, converse, debate and even argue about your points! Welcome to Buzzing Blogosphere, a place that will have its fingers on the pulse of time, courtesy of bloggers.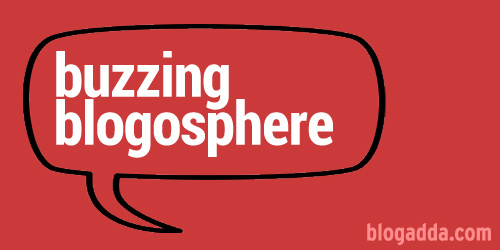 Since 28th January, 2015, a huge chunk of the conversation on social media has been about the AIB Knockout. None of us live under the proverbial rock so we've all heard of the infamous 'Roast' that went from the 'You need to watch this video, dude!' to 'Are Ranveer Singh and Arjun Kapoor going to jail after being voluntarily insulted?'
A look at some of the hashtags that the AIB knockout inspired is enough to judge the trajectory of the incident. The first hashtag was #AIBKnockout. This was on 28th January, the promised day of the video release, when the youth of India stopped forwarding messages to their Whatsapp groups and waited with bated breath for the video. The video made its way to Youtube (after some necessary edits, of course) and saw a deluge of hits – over a million in the first 24 hours to be precise.
Then some people realized 'Oh, this funny video has cuss words and sexual innuendoes!' and expressed themselves on social media, which lead to the next hashtag – #AIBNationalShame
Obviously, the people who found the Roast funny countered with their own hashtag – #IStandByAIB (Or its variant). Also, they didn't see the big deal about it because anyone who has travelled in public transport at peak hours has heard all the cuss words in the video, and in lesser time.
Anyway, after the video was taken down, an open letter issued by AIB regarding the matter, and an FIR lodged against Ranveer and Arjun along with Deepika and Sonakshi Sinha, many voices have emerged advocating both sides – the alleged offenders and the offendees. In a recent development, the AIB has also issued an unconditional apology to the Christian community for hurting their sentiments during the AIB Knockout.
As is expected, the attack on AIB even after their disclaimer that those who are under age or easily offended shouldn't watch the video, has been taken as an attack on free speech and creative liberty in India.
Bloggers like Siddhesh (you can check the cache link here since the blog post seems to be down now) took the satirical route to get an idea about how things unfolded as they did. He says, 'A few more 'culturally' apt people decided to catch up with their daily 'let-me-see-what-offends-me' on the internet thing after watching an episode of Comedy Nights with Kapil. This show promotes jokes on a drunk old woman's loniless (sic) and an unmarried middle aged woman's desperation. Not to mention the insecurity of a family bread-winner, who gets all alpha-male around him dressed as woman, but that is part of our 'culture' as well.'
Bloggers also felt that in a country where women get abused and raped everyday, an issue as trivial as perceived offence taken on a Roast, which by definition is supposed to be full of insults and jibes, is a waste of time. Kanishk Mallick says, "I have grown up being witness to eve-teasing where 5 boys would be passing the most lewd comments (worse than AIB-Roast) towards a lonely lady with another 5 witnesses actually enjoying it (me included! ). On other occasions, if some of us did object to such a gang of boys, we would be threatened with even worse comments. Sometimes, policemen supporting 'the gang'."
People like Arnab Ray used their best weapon, their sense of humour and satire to fuel the debate surrounding the Roast. WIth quotes like "The final word is pretty simple though. Like it or not, the roast is there and insult comedy is here to stay. Just like Honey Singh, Radheshyam Rasia, and Somnath Bharti. And while you are free to counter-protest, or turn-off, or unfollow or unsubscribe, you do not have the right to shut down, either through government fiat, very easily done given the sorry protection given to freedom of speech in our laws, or through implied threats of violence.", he made it loud and clear that such content and their creators were not going anywhere.
There were some who tried to be objective about the whole thing and presented both sides of the argument. Yes, the roast had objectionable content, but it wasn't forced down an unsuspecting audience's throat. Beast of Traal opines, "The options do not include deciding on behalf of others and seeking a ban on such content. That's akin to seeking a ban on allegedly provocative dressing by women because some man couldn't control his faculties as a result and acted against prudent judgement. Wrong priorities as regards ban, there."
In Search of My Haven wrote, "The bads in AIB Knockout's case far outweighed the good. I wish I could say that it promoted forthright expression and its acceptance, but it did not. What it did promote was coarseness and unwarranted obscenity, which if it wasn't for the ineptitude and pig-headed fixation of its members to serve their viewers racial and crude sexual humour on their platter, could have translated into something much more fruitful."
There were also people who discredited the people who took offence to the video through their blogs. Sample this by Rishi Majumder from NDTV's blog: As for "Indian culture", one wonders whether Tiwari has heard of traditional practices such as Maharashtra's bawdy Lavani, or the purposefully vulgar and offensive Gaari (from 'gaali') songs sung at North Indian weddings. Does he intend to file a police complaint against each such wedding too?
Or this from IBNLive's blog by Zakka Jacob: "Our idea of comedy has changed. Everyone's fair game. There's no more reverence. No more Bacchhan sir, Rajni sir and Kamal sir. Yashraj and Karan Johar realize this. We abuse in everyday life, in daily traffic, so why be so hypocritical when someone does it on stage in front of four thousand people, all in good humour."
When something as polarizing as the AIB Knockout takes place, there are bound to be opinions from the opposing end as well, who agree with the offendees and don't find any merit in the AIB's stand. As Abhilash Ruhela points out, "if you are releasing something like this for viewers to watch, you are adding your contribution in ruining this society and making it tougher for women. Because now guys will easily say "when superstars like this can take the joke, why can't you?" every time a girl will protest insult, humiliation, snub and eve-teasing."
It could be someone like Shishir Tripathi, who finds the whole idea unnecessary and unfunny rather than offensive. "I have been following the AIB videos for some time and was impressed by their subtle humor. Be it their satire (mind it, I am not saying they were judgemental) on the dwindling media ethics or their take on the inherent vulgarity in how the society perceives the act of rape. Now what shocks me is AIBs decision to make the entire humour coloured with sexual innuendo. What required them to take this path? Was it for "extra 50 views on YouTube hits" which comes with every single gali uttered during the performance?", he asks.
There is also an interesting theory that talks about the financial viability of such roasts by channels like the AIB. Apart from Arnab Ray who saw the commercial gains in such a venture, the ET blog also recognizes the value inherent in such offensive humour. Take a look at this – "These gentlemen are plying what is possibly their only or at least best skill- an ability to make crude, brazen jokes in public. They are able to make a living doing this because people willing to pay as much as 4000 rupees to watch them. As long as there is a market, so there shall be entities like AIB and in today's India there seems to be one".
All said and done, there are people like Pratik Parate, who feel that this issue has been given too much gravitas already when there are other things to worry about and improve upon in our country. This is what he has to say, "Please let go of this controversy now and focus on improving yourselves intellectually and rationally by including the virtue of scientific temper in your personality. There are more important issues that can be focused in the society and sometimes those issues go unnoticed just like the example of Mothers doing all the work in the family. May be that issue is graver and people should take more offence to such fundamental issues before macro issues like Religion, Ethnicity, Culture etc."
The AIB Knockout has gotten its creators enough publicity to last them a lifetime (or in these times of short attention spans – 2 months at the most). There are people supporting and denouncing them with equal fervour. Last but not the least, their purported rivals in the viral video market- The Viral Fever, have also come up with their own video in support of AIB. As they say in their video, this issue will have an impact on all the videos that are made in the future, and put fear in the minds of creators of any material.
If this support is not a telling sign of the kind of debate that the AIB Knockout has sparked, we don't know what is.
Tell us your thoughts about the AIB Knockout, we would love to know what's buzzing in your brains on the topic!