CXOs and executives have a lot of insights and knowledge to offer, and what better way to share your knowledge with the world than blogging? Sadly it is not always possible that executives have the time or the know- how about making the optimum use of blogging as a tool for sharing knowledge and encouraging conversation. We have Mark Hillary with us over a Twitter Chat.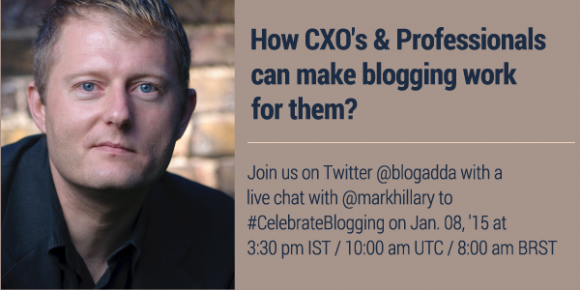 We know a lot of executives have doubts about blogging, that is why we have arranged a Twitter Chat with International Blogger and Author Mark Hillary on "How CXO's & Professionals can make blogging work for them?" 
Mark Hillary is a British writer and blogger based in Sao Paulo, Brazil. He has published several best-selling books on technology and globalization and is the author of the book 'CEO: Customer Engagement Officer. Content Marketing and the Realities of Executive Blogging'.
If you missed the chat, here is a quick recap for you- 
  Check out this brand new amazing activity "Blog for #UseYourAnd and Take a Stand" and  'A chance to win a car"