Update: We now have a judge on board to decide the winner for the Gillette Venus #UseYourAnd activity. Read to the end of the post to find out who it is!
"You can be either a good wife OR a surgeon"
"Decide if you want to be a good daughter OR an actress"
"Choose between being a banker OR being in a band"
Haven't girls everywhere heard this or a version of this ultimatum? Where it looks like you are being given a choice, but it actually is a thinly veiled ultimatum?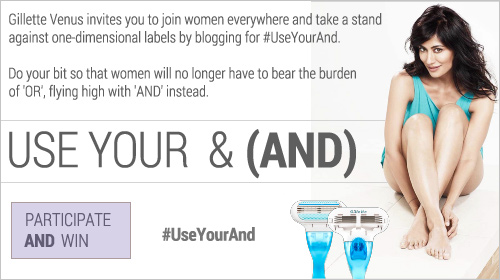 Gillette Venus and BlogAdda want you to break out of the shackles of OR and embrace the AND within you. Yes you can be an engineer AND a baker AND a social worker. Your life as a woman is composed of many such ANDs, and it's time you celebrate the sum of everything you want to be AND can be.
Watch this video to know more about #UseYourAnd –
#UseYourAnd and blog to put an end to the one-dimensional labels that limit your potential. Blog on the themes given below and let the whole world know your story of triumph.
1. Things that define me
Every woman has some things that she is passionate about, things that make her who she is. Tell us about the things that are important to you, the multitude of things that make you who you are, because you can't be limited by one label.
2. Journey from 'OR' to 'AND'
Your story of how you took charge of life and made a choice, not a compromise. When you refused to choose one thing OR the other, and instead followed your heart.
Tell us your story or an inspirational story of a woman you know that defines #UseYourAnd. You can also tag a woman blogger in your blog post who exemplifies #UseYourAnd, because we would love it if all of these stories came out into the world for all to see.
Men, this is also your time to honour and celebrate the women in your life by writing about them in the context of one or both of the themes given above.
Prizes:
1. First Prize: Rs. 25,000 cash
2. Second Prize: Rs. 15,000 cash
The judge for the #UseYourAnd activity is Kiran Manral – former journalist and one of the top bloggers of the country. She is an author who has written two successful books – The Reluctant Detective and Once Upon A crush. Kiran also initiated 'India Helps', an online volunteer network that helps rehabilitate those who were affected in the terrorist attacks. She is also an advisor on the Board of Literature Studio, Delhi. Truly, she is a woman who has rejected the 'OR' and embraced the 'AND' in her life. That makes her the best person to judge the activity. We welcome Kiran on board and assure you that you will know the winners of the activity by next week!