Yes, you heard that right. Your blog can now become the key to your very own BOLT from Tata Motors!
Can you feel your pulse racing? That's good news, because the adrenaline rush will help you Get. Set. Bolt. before the rest of the world catches up.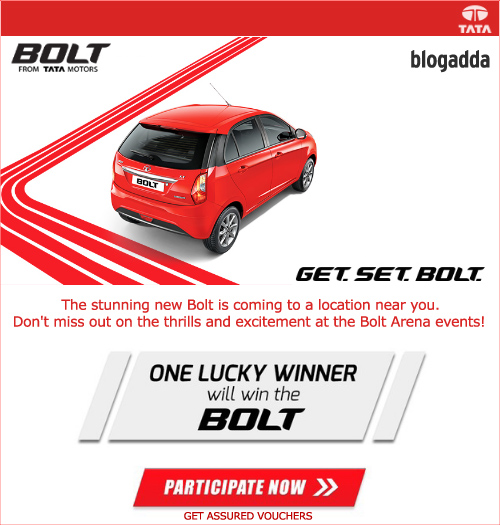 All the bloggers who were shortlisted for Get. Set. Bolt., hope you had a great time at the Bolt Arena, admiring the sporty design and aggressive styling of the Bolt. We are now looking forward to your blog posts! Tell us about 5 features that you think are cutting edge and why you are eager to Get. Set. Bolt in the new BOLT. 
Hint: We would love it if you include lots of photos and/or a video in your blog post.
Each blog post will get cash/ vouchers worth Rs. 1000 and the best blog post will win the Grand Prize- a brand new BOLT!
And that's just the first part of the BOLT experience. 20 of the best bloggers who participate in Get. Set. Bolt. will get a chance to take part in an exclusive BOLT drive in 3 different cities. It is going to be a memorable drive with enthralling activities along the way!
So get your driving license ready, mark out your parking space (for the new BOLT that you can win), and start blogging about the BOLT!
Instructions to follow:
1. Each blog post must contain at least 5 features of the BOLT. Only one blog post per blogger will be considered eligible for the assured voucher and a chance to win the Grand Prize.
2. Each blog post must be of a minimum of 400 words and must be accompanied by a photo of the blogger with the BOLT in the mall.
3. The winner of the BOLT will have to bear the gift tax or/and any other taxes as per the laws applicable in India.
4. If the winner forfeits the BOLT, the prize will be transferred to the next blogger.
5. The deadline for submitting your entries is midnight of 31st Jan, 2015.
6. Please ensure that you include the following code in your blog post before submitting-
"This post is a part of the Get. Set. Bolt. activity at BlogAdda."
To submit your blog post, click on the button below.
Submit Now!