A new year has come into our lives with new promises and hopes. Frankly, we can't believe that the calendar has already changed to 2015. It's true that time waits for no man, so we will honour the fact that weekends are the time to give you WOW blog writing prompts and do just that.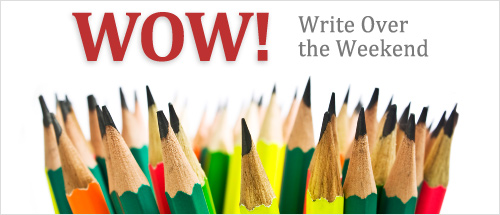 This week you have to write on 'January, Jeans and Journey'.
January is a month that spells freshness and the chance to do something in a new way. No wonder that we are infused with a new energy throughout the month. We are teaming January with 'Jeans', which are so commonplace that we take their presence and comfort for granted. We're hoping that you take these words and set off on a 'Journey' of blogging that people will love to be a part of!
So pen down what you think of when you see these three words 'January, Jeans and Journey' and let us be part of your creative world!
Remember, you have time only till Sunday midnight to submit your blog posts and have a chance to get the WOW badge!
Include this code:
This post is a part of Write Over the Weekend, an initiative for Indian Bloggers by BlogAdda.
Good news! There is now an easier way to submit your WOW entries, so submit your entries via the link below for them to be considered valid.

Every weekend, we give creative blog writing prompts for you to write on! Hope you enjoy our creative writing inspiration for this week. 🙂
All those who are featured in WOW can now flaunt the WOW badge on your blog. Download your badge now!