For the whole year, you send in your entries and see to it that bloggers wake up to a Tangy Tuesday. There are dozens of wonderful blog posts that make up our Tangy Tuesday picks so it is a huge task to select the best of them but we tried to choose and these are the Tangiest blog posts of 2014. Can't get enough? Then head over to the Best Blog Posts of 2014- Spicy Saturday Edition to read our choicest Saturday picks.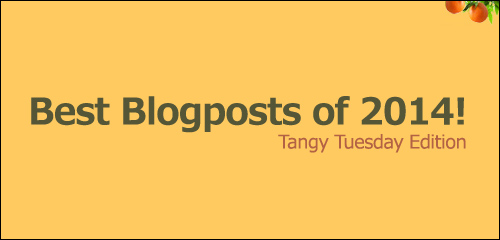 ---
---
---
---
---
---
---
---
---
---
---
Did you like our pick of the 'Best Blog Posts of 2014- Tangy Tuesday Edition'? Let us know in the comments section below!
---
Have you checked out 'Conversations' where you can Connect, Learn & Share. Do check it out and participate. You can now tip your blog posts for Tangy Tuesday and Spicy Saturday Picks right from our homepage. Click on the tabs and submit your posts.You can also tip us on Twitter @blogadda or using our contact form. If selected, you'll be credited for it and the readers will get a chance to read something worthy.