For shopaholics everywhere, there is no better feel good factor than a successful bout of shopping. In that sense, all the bloggers who participated in the BlogAdda Quikr activity and got Rs. 5000 to shop to their heart's content are winners.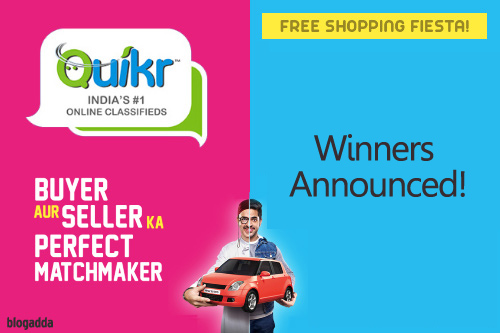 100 bloggers all over India were asked to shop for Rs. 5000 on Quikr.com and chronicle their experience. All you bloggers shopped, and how! We loved all the entries, the sheer variety of things that you shopped for and the personal stories about the items that you bought.
But as promised, we have the 3 Final winners of the Quikr activity, so lets 'Quikly' get to the announcement.
Here are the winners-
First prize– Vouchers worth Rs. 25,000:
Ankita Singhal for her blog post Quikr : Perfect matchmaker of buyer and seller
Second Prize– Vouchers worth Rs. 10,000:
Sneh Chandel for his post The Quikr Experience And A Few Tips For Exploiting The Max Out Of Quikr
Third Prize– Vouchers worth Rs. 5000:
Gitanjali Banerjee for her post Helping Children Dream by Giving Books in Their Hands
We will start the reimbursement process next week. If you don't get the payment by the 25th of December,please let us know. We will soon be sending a mail to reconfirm the details.

A big Thank You to all the bloggers who participated in the Quikr activity, and congratulations to the winners. Happy Shopping!

You can also participate in our Gillette #WillYouShave activity to Earn Unlimited and #BlogToFeedAChild to feed a child for an entire year!