"Great stories happen to them, who can tell them"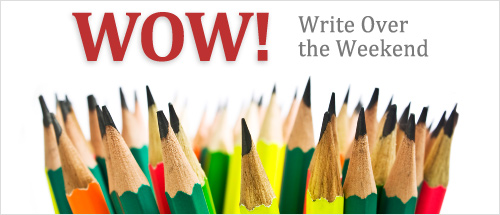 Write Over the Weekend theme for this week
Your post should contain the three words,

Parle

G biscuits,

Doordarshan

,

Nataraj

dark pencils.
Weave a story and try and keep these creative writing prompts, a substantial part of the story.
Remember these words? These were an inseparable part of our childhood. Let's weave them into our story.
A very Happy Children's Day!
The response to WOW has been overwhelming! Each week you'll give us amazing stuff to read. We've purposely taken absolutely disconnected words to try and see how you connect them in your WOW post. We're looking forward to many creative write up this week as well!
Put your thinking cap, let your creativity flow, and go crazy in your imagination. We are awaiting some awesome blogs from you! This time, leave no stone unturned to make the WOW badge yours 🙂
Remember, you have time only till Sunday midnight!
Include this code:
This post is a part of Write Over the Weekend, an initiative for Indian Bloggers by BlogAdda.
Every weekend, we give prompts for you to creatively write about! Hope you enjoy our creative writing inspiration for this week. 🙂
All those who are featured in WOW can now flaunt the WOW badge on your blog. Download your badge now!