"Life has many twists and turns and sometimes what looks like a very bad day can just be clearing the way for good things to come." ― J. Kim Wright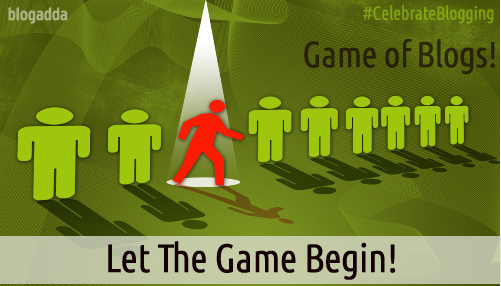 10 members, 7 days, 5 Characters and 1 story. This is how anybody will define the teams at Game of Blogs. But we fall short of words to describe our super talented teams of new age wordsmiths. Innumerable whatsapp messages, unmeasurable brainstorming, hundreds of emails, hours of discussion with strangers turned friends and more.
Teams have lived several lives in the last 10 days. #CelebrateBlogging is like a happy twist for the bloggers, teaching several life lessons, inspiring to strive for more and giving memories to cherish for a lifetime.
With the twists coming in our bloggers' lives how Shekhar, Tara, Roohi, Jennifer and Cyrus's lives stay calm and sorted. You will soon experience something which will change everything.
For our next round, there is a twist which you all have to incorporate in your stories.
"Jennifer will discover Cyrus's blog and will find out about Dutta family's neighbor Mr. Aryan Ahuja."
Congratulations to all the teams for qualifying to the next round. From here, the journey will get all the more interesting and thrilling.
The jury comprising of superstars of the Indian Literary world had a very tough time judging the stories and at the end suggested us that 'No Team should be eliminated'
Each one of you have put in a lot of effort and we recognise that. Just keep going on!

The Deadline for the second round is September 26th, 2014.